Here's Why to View The Solar Eclipse at Gorges State Park
Gorges is located in North Carolina's waterfall district that includes Sliding Rock. There is plenty of outdoors fun in addition to watching the eclipse.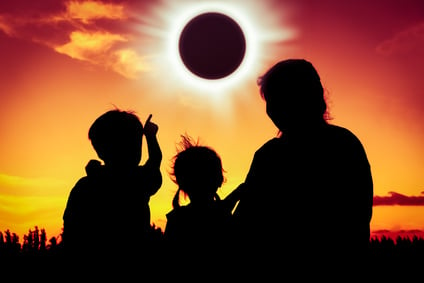 By now you know that the solar eclipse will occur on August 21st at 2:38 p.m. Do you have a plan for where to watch this once-in-a-lifetime event?
Consider a long weekend in Gorges State Park near Brevard. Gorges is in the "path of totality," where the moon will completely block the sun.There will certainly be no "light pollution" at Gorges, so the experience will be profound.
Download the park's activity schedule
In addition to Nature's show, the park service has planned a great lineup. DOWNLOAD this PDF of weekend activities featured at Gorges, including astronomy programs, a falconing demonstration, music, and puppet shows.
Located in Transylvania County, home to 250 waterfalls, there is plenty to do in the area addition to eclipse programming. This video will make you want to make lodging reservations in Transylvania County NOW, while you still can find a spot!
I visited Gorges during 2016's leaf season—spectacular. The new LEED-certified visitor center is both educational and gorgeous (which rhymes with "Gorges," just for fun).
Preparing for the eclipse
Here is what you need to know to prepare if you plan to watch the eclipse at Gorges State Park:
Arrive early because the park service expects a record crowd. Get to your viewing location by 11 a.m. The park gates will open at 5 a.m.
Come prepared. You will be at the park for several hours. Bring food, water, sunscreen, chairs, and anything else to keep you comfortable. No alcohol is allowed in the park.
Be prepared for changes in the weather.
Bring and WEAR your eclipse glasses. Looking directly at the eclipse without proper eye protection can cause permanent damage to your eyesight. Make sure your eyewear meets the ISO 12312-2 international standards.