Here Are Charlotte Parent's 2020 Teachers of the Year
You nominated. We selected. Meet these star educators in the Charlotte area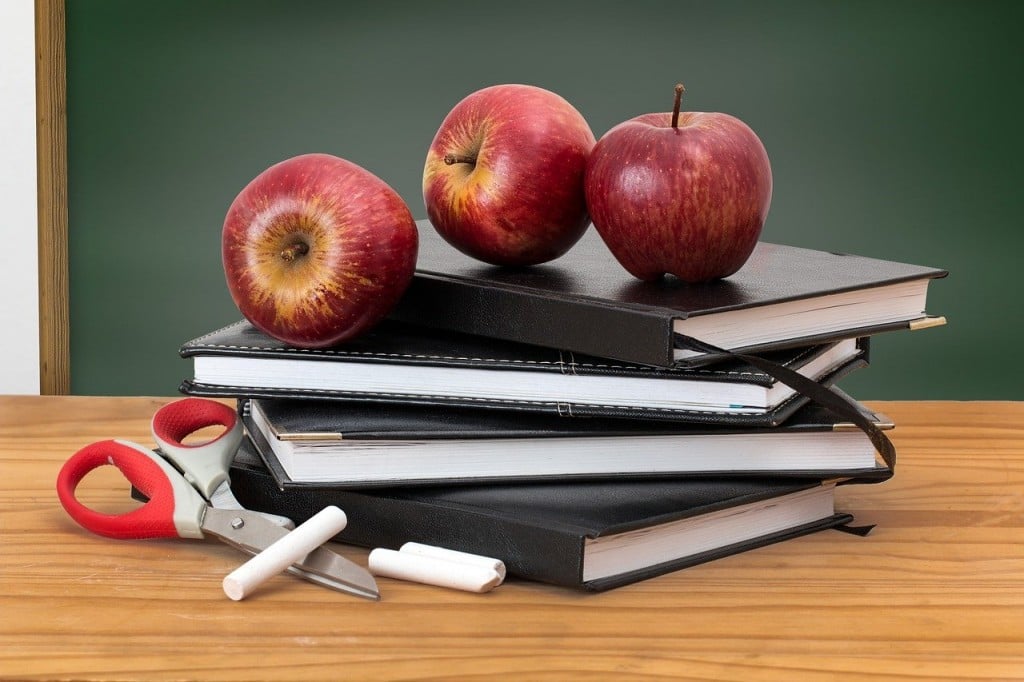 Earlier this fall, readers of Carolina Parent and Charlotte Parent submitted hundreds of nominations for exceptional teachers in their areas. Below, find the ones selected in the Triangle for the levels of preschool, elementary, middle school, and high school:
Joel McMillon
Nomination excerpt: "Mr. McMillon has a servant's heart and is always there to support, encourage and roll up his sleeves to help anyone in need. He always serves unreservedly with a smile and a joy-filled heart, thus making others feel loved and joyful as well. I have been an educator for more than 30 years and have never seen a teacher more loved by his or her students than Mr. McMillon. Why? Because his students know the genuineness of his love and care for them!"
School: Carmel Christian School
Grade level/subject: 12th grade / Bible
Family status: Married with two children
Hometown: Phenix City, AL
Currently lives: Matthews, NC
Why did you become a teacher? To invest in and impact the lives of young people. Students, regardless of age, are in a major developmental period in their lives that is shaping the man or woman they will become, and as a teacher, I have the opportunity to grow, encourage, defend, and influence them on their individual (and collective) journeys.
What's been the hardest part about teaching through a globalpandemic? Having the 2019-2020 year cut short. I had taught the Class of 2020 every year of their high school career, so to not be able to see them for their last three months of their senior year was sad for me. I missed getting to say goodbye, even though our school had a drive through commencement ceremony. It just wasn't the same as seeing them daily and being able to talk with them about life as they finished high school and prepared for college.
What's been the best part about returning to the classroom? I am really enjoying interacting with students again. Being able to see the friendships and building rapport with a new group of students has been a refreshing endeavor, and I am praying that the protocols that are in place will help our students, staff, and families remain safe so that we can stay in school for the entire school year.
What's been your proudest moment as an educator? In my 18 years of teaching, I think my proudest moments as a teacher revolve around those students who have gone on to be successful young adults, making a positive difference in the community and world. Because I am an ordained minister, I have also been invited by former students to officiate their weddings. It is always a blessing to know that these students remember our time together in a positive light and allow me to have a role in one of the biggest moments of their lives.
What's been your biggest teaching fail to date? My biggest fail was on a day when I was already irritated by a class that was uncharacteristically unruly, then my next class came in. The lesson that day was on rounding decimal numbers, and my students were having a difficult time with the concept. After trying to teach the lesson a few different times and still having some students who were struggling, I asked if any student in the room could offer an explanation from a student's perspective to try to help others. One student responded, "No, Mr. McMillon, you have explained it as easily as it can be explained." Feeling bad for those who were still struggling, I tried one more time. Unfortunately, those who were lost remained lost, and those who got it were getting bored. So, then I said, "All the smart people get on the right side of the room, and all the dumb people get on the left side of the room. That way I can teach this again to the dumb people, and the smart people can start on their homework!!!!" The kids were stunned. One student said, "You can't say that to us." Another replied, "I'm going to get my lawyer." After a moment of awkward silence, the only boy in the class looks at his neighbor, then looks at me, then proclaims, "That was a good one, Mr. McMillon!" Then we all had a good laugh, and I never heard anything from it again. Definitely not my brightest moment.
What's your favorite thing to do outside of the classroom? My wife, son, and daughter are my world, and I love making memories with them. We go to my son's baseball games, or I help my daughter with cheerleading motions and stunts. We go on family walks or bike rides or trips to get ice cream.
What's the best teaching advice you ever got? Follow the four F's: Be firm, fun, and friendly, but never familiar. But also, I would say that simply becoming a parent ended up really shaping my view on my classroom. My students are loved by their parents as much as I love my kids, and the expectations that I have for my kids' teachers to care for and teach them are similar if not the same as the expectations that my students have for me.
---
Ashley Shoudy
Nomination excerpt: "Mrs. Shoudy has made fourth grade the best year yet for my 10 year old daughter. She started the school year this year having a lot of anxiety, and Mrs. Shoudy has been so supportive and a wonderful mentor to help her with all the feelings. We are ending our school year with a much more confident little girl who loves school. Even with the closure, Mrs. Shoudy has been there any time for any issue, school or personal. We've requested she move to 5th grade next year because quite frankly, I can't imagine life without her! :). Mrs. Shoudy deserves this award for being the wonderful, amazing teacher that she is. Thank you!"
School: Elizabeth Lane Elementary
Grade Level: 4th Grade
Relationship/Family Status: Married to husband Thomas for 20 years and mom of 2 kids
Hometown: Atlanta, GA
Currently Lives: Charlotte, Nc
Currently Reading: Untamed by Glennon Doyle
Why did you become a teacher? I really enjoy working with children. I wanted a career where I felt challenged, yet satisfied by the difference I could make each day. I am inspired that teachers are in a unique position to teach students how to problem solve, think independently, and learn how to be a successful member of our ever-changing society.
What's been the hardest part about teaching through a global pandemic? There has been so much to learn, plan, test, revise, prepare, and review every single day. The hours have been very, very long.
What are you most looking forward to about returning to the classroom? I look forward to hearing the children laughing and interacting. I don't think I will ever say, "stop talking" to my students ever again! I miss the kids so much!
What's been your proudest moment as an educator? When I graduated with my Master's degree at age 24. I started the program during my first year teaching at age 22 with a co-op from the middle school where I taught. My principal pushed me to participate in the co-op because if we had enough people participate, classes could be held at our school and the county would pay for it. It was a win-win for all involved.
What's been your biggest teaching fail to date? I taught middle school science for several years and one of the hands-on activities for my physical science class was to create "marshmallow molecules" to describe atomic composition. A student filled his mouth with marshmallows and then started choking. It is the one and only time in my teaching career I have had to give the Heimlich to a student. I have never used marshmallows in class ever again!
What's your favorite thing to do outside of the classroom? I really enjoy spending time with my husband and two boys. I enjoy watching my boys play sports. I am a UGA alumni, so I love to watch UGA sports, especially football. I enjoy reading, traveling, and shopping.
What's the best teaching advice you ever got? My principal at Elizabeth Lane Elementary is amazing and she often says things that "stick." Recently, Crystal Lail told the ELE staff to "stay positive because positive energy is what fuels our success." She has reminded the ELE staff that, "the best preparation for tomorrow is doing your best today." I often need her reminders. I am so blessed to work in such an amazing school with phenomenal administrators, staff, and parents.
---
Lindsay Mangas
Nomination excerpt: "Mrs. Mangas is a high school science teacher that always goes above and beyond to create ways to engage students in a hands-on manner. Not only does she do this normally, but especially during the quarantine. Her video lessons and experiments have continued to drive our students toward science fields post-graduation. There is no wonder why she is always the favorite high school teacher!"
School: Arborbrook Christian Academy
Grade Level/Subject: High School Science
Family Status: Married with three children: Addie, 13, Alivia, 11, Nate, 5, and one dog, Pilot.
Hometown: Fort Wayne, Indiana
Currently Lives: Matthews
Currently Reading: Paper
Towns by John Green, Marching Off The Map by Tim Elmore, Signature in the Cell: DNA and
the Evidence for Intelligent
Design by Stephen C. Meyer
Why did you become a teacher? I was working in the immunology field on anthrax vaccine development, spending long hours in the lab. We hired some new lab techs and I was training them on our project, and realized I enjoyed teaching them more than I enjoyed testing toxicity levels! I actually said I would never be a teacher for the longest time! But God certainly had other plans.
What's been the hardest part about teaching through a global pandemic? It has been really hard to find a sense of balance between the areas of life that pull me constantly. School versus home. Caution versus confidence. Work versus play. It's nothing new, just magnified. Plus, I really missed hugs from my students.
What's been your proudest moment as an educator? Watching the "aha!" moments when a student works hard and finally gets a challenging concept or idea. Hearing from students who have graduated that things they learned or did in my class helped them in college. These kids are my kids, so I'm proud like a momma when they score a three-point shot in basketball, or hit the high note singing the national anthem.
What's been your biggest teaching fail to date? Well, I set my trashcan on fire once. But there are lots of fails that become learning lessons: Not trying a lab before class, not keeping parent contact info at home, forgetting a flash drive, having my kid spill a drink all over a pile of tests I was grading at home, explaining something the way it makes sense to me and expecting that it will make sense to all learners… I've been teaching for a while, but I'm not done learning how to do it well.
What's your favorite thing to do outside of the classroom? Spending time with my family, reading, and cooking.
What's the best teaching advice you ever got? Taking the road less traveled can make all the difference (a sort of hybrid between Robert Frost and Romans 12). That's more general life advice, but definitely relates to teaching.
---
Kaprea' Reid
Nomination excerpt: "Thank you for taking the time to watch this. She is rare gem. This is only a little bit when she does any activity she includes educational foundations to it all. https://www.youtube.com/watch?time_continue=98&v=uhmG_M2iML4&feature=emb_title"
Grade Level: Pre-K
Relationship Status: Single
Hometown: Gastonia, NC
Currently Lives: Charlotte, NC
Currently Reading: Raised-Bed Gardening for Beginners by Tammy Wylie
Why did you become a teacher? My mom introduced me to this profession after I graduated college and wasn't having any luck in the psychology field. Little did I know psychology entry-level jobs require years of education or experience, which was out of my league, so pre-K teacher it is! And I have to say, I am glad the luck ran out and teaching was in my cards. I love every moment and I know I was born to be a pre-K teacher!
What's been the hardest part about teaching through a global pandemic? Adapting to the new social distancing regulations and procedures. COVID-19 created new policies at our school that prevent those face-to-face conversations with parents and full class capacity, so it's hard adjusting.
What are you most looking forward to about returning to the classroom? We are currently in the classroom, but our numbers are very low. As we are getting back to the new normal I am looking forward to meeting new students and welcoming them to our Room8Rockz classroom! The more voices and laughter the merrier!
What's been your proudest moment as an educator? When parents unexpectedly took action to raise money for a field trip that fell through at the last minute. Seeing them ban together in the ClassTag comments to raise the money in less than 30 minutes was so inspirational. This moment confirmed to my co-teacher and me that the energy we put into teaching our students doesn't go unnoticed.
What's been your biggest teaching fail to date? Feeling like I'm not reaching the high standards I set for myself. I have a passion for teaching and want to do the most I can for my students, but realize I can't do that every day. There are days when I am hard on myself and I feel I could have done better, so I've been learning to do what I can in that moment and starting fresh the next day.
What's your favorite thing to do outside of the classroom? Art. I love to find different DIY projects to do on Pinterest and Tik-Tok. There are so many different ways to create on a budget (especially on a
teacher salary).
What's the best teaching advice you ever got? The best teaching advice I got was from my co-teacher minutes before my first observation. She said, "loosen up, be yourself. The main goal is that the kids are learning and having fun! Don't worry about your evaluator." These were the perfect words to calm my anxious mind. Those words of wisdom helped me realize the goal is making sure my students are thriving, regardless of who is in the room watching.