Helping the Perfectionist Child Find Balance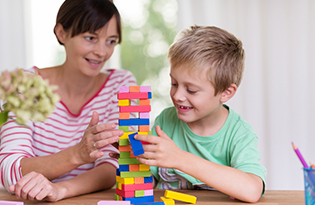 How many times have we heard, "practice makes perfect?" How often do we say it to our children? If you have an overachieving child, striving for perfection could set your child up for disappointment. Studies have shown that constantly striving for perfection reduces productivity and can be psychologically harming, Perfectionism also can be a risk factor for depression and eating disorders – possibly due to pressure individuals place on themselves to please others and always appear perfect.
Parents should absolutely expect the best from their kids, but perfection and excellence are different. Those who strive for excellence realize no one is perfect, including themselves. Excellence should include developing coping skills, such as maintaining a healthy diet, getting exercise and adequate rest, socializing and having downtime.
How do you know if your straight-A, athletic child is becoming overwhelmed? If he exhibits excessive self-doubt, skips sleep to catch up on homework, isolates himself socially, or puts on a façade that "everything's fine," then he may be under excessive stress.
Help your child by talking to him about your childhood mistakes to show that even parents aren't perfect, plus it may provide a good laugh. Set a study schedule to avoid late-night cramming. This can help your child get adequate sleep, and focus on the effort rather than the result. If your child begins avoiding activities because he isn't the best, try non-competitive games or activities, especially with the family, letting him know that he is loved, no matter his skill level.
How do you know if you are the overachieving parent? Exercising introspection and developing awareness that there may be a problem are the first steps. Often, unrealistic parental expectations stem from a parent's upbringing. Parents may try to compensate for their unmet childhood needs by setting goals for their children based on their own experiences rather than on their child's abilities. Examining your attitude toward perfection, then provide a loving, supportive environment with clear, age-appropriate rules to help your child set his own realistic goals. Modeling a healthy work-life balance goes a long way. If children see their parents taking time for themselves in healthy ways, they will follow suit.
Dr. Traci Lamothe is a pediatrician at Novant Health Ballantyne Pediatrics. She is married, has three children and enjoys training for triathlons.