Help, My Child is Sick on Vacation!
Viruses, aches and sprains on vacation. What's a parent to do?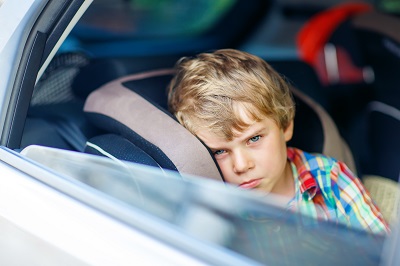 Two years ago, six children on our beach vacation developed symptoms of hand, foot and mouth disease. As physicians, we appreciated watching the various symptomatology and timeline of transmission in our small sample size (insert pushing our nerdy glasses up our noses here). As their parents, however, it added a facet of stress to the week that we could have done without. Much anticipated vacations can be derailed by illness or injury, making it memorable for other reasons. In anticipation of the upcoming summer season, we have compiled some practical advice based on common questions asked in our practices.
A little research prior to leaving is worth it. During the planning stages, consider where you will be traveling and what resources are available. Is there a hospital? Is it a children's hospital? Are there any urgent care clinics close by? We are very fortunate in Charlotte to have urgent care clinics that only see children but this is not the case in many areas. Ask relatives you may be visiting if there are local pediatricians who could see your children, should an illness arise.
When packing, make sure to include not only daily medications, but also as-needed prescriptions, such as epinephrine pens and asthma rescue inhalers. It is a good idea to pack over-the-counter fever medications, hydrocortisone and Benadryl along with your sunscreen and bug spray. Additionally, write down a list of everyone's known drug allergies, daily medication dosages and dates of last tetanus vaccines. A quick memo on your phone could save you a panicked call to your home pediatric office.
Try not to overload yourselves with equipment you may not need but do think ahead with regards to safety measures, including car seats. Airlines may have specific requirements regarding air travel with children and proper restraints. Two helpful resources include the American Academy of Pediatrics and the Centers for Disease Control and Prevention for travel tips with children.
Some of the most common problems encountered on vacation include gastroenteritis, food poisoning, fevers, sunburns and minor injuries. Initial treatments for signs of vomiting or diarrhea include home therapies like Pedialyte and rehydration. If your child is worsening, however, or not improving over 24-48 hours, it would be time to take other steps. For sunburns, prevention is key. Do not overlook good sun protection just because your trip does not involve the beach.
Minor injuries and cuts should be able to be managed at an urgent care, if available. Less commonly, broken bones or surgical issues arise. Consider how remote your location is when deciding when to seek medical care. For instance, if you are far from any medical facility and something happens, seek care earlier rather than later just to be safe. Emergent surgical issues that arise would be triaged by local physicians and transfers would be made based on the comfort level of that institution to take care of children.
If you are uncomfortable or have questions, consider calling your home pediatric office. Triage nurses at Charlotte Pediatric Clinic commonly answer questions for our traveling families and can assist in starting home therapies over the phone. The surgeons at Pediatric Surgical Associates often know the providers in their specialty in other parts of the country and can act as a resource if contacted.
Canceling a trip or going home due to illness should be considered when a problem arises that will need close follow up or the illness/injury substantially interferes with the activities you have planned. As in our case last year, our son's broken arm sustained three days prior to a trip that involved water activities called for a readjustment. In general, if local resources are sparse, think carefully about participating in high risk activities like zip-lining, parasailing and scuba diving.
Last but not least, age appropriate flexibility is key. Try not to overschedule everyone before you get there. Concentrate on the time away from day-to-day activities and remember the "family" part of the vacation. Even in the event that a medical situation arises, it will be woven into the memories of your time together, which will help shape your child's life. Our previous beach vacation may have involved more indoor games and less beach time but we still had fun, blisters and all.
Anna Schmelzer, MD, is a pediatrician at the SouthPark office of Charlotte Pediatric Clinic, and Thomas Schmelzer, MD, is a board-certified pediatric surgeon at Pediatric Surgical Associates. They are married and have two children.
For more information on keeping your child safe and well, visit pedsurgical.com.