Heart-Healthy Fitness Strategies for Kids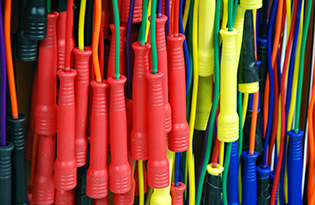 Ideas to help get your tater tot off the couch
Exercising need not be reserved for the outdoors as there is plenty kids can do inside of the house to get fit! 
Here are just a few good ideas:
•  Walk or run up and down a stairwell multiple times (skip a step for added intensity and effectiveness).
•  Jump rope – yes, indoors too!  Just ensure that the child has enough clearance from that cherished vase!
•  Dance! Let the kids "boogie" away those calories.
•  Calisthenics (push-ups, sit-ups, jumping jacks, etc.) are great exercise and you can hold a friendly competition!
•  Hula hoop where, again, clearance is key here!
•  Yoga (yes, for kids, too!) is great for developing body coordination and balance.
• Stretching helps with flexibility, which is another sign of a healthy body.
Prefer the great outdoors?
No problem! Outdoor fitness ideas abound, including:
• Take a walk, jog, or hike. Raining? Walk the mall double time!
• Ride a bike, skateboard, or scooter.
• Roller skate or in-line skate.
• Catch a pickup game for basketball, baseball, football, tennis and others that get your heart pumping and muscles working.
• Swim! Forget doggie paddles; instead, do laps up and down the pool or, for the ambitious types, try butterflies!
• Jump rope is an old standby that offers an array of health benefits.
Take casual activity to the next level and add excitement.  Seek out community events, such as a walk-a-thon, bike-a-thon, or even a tri-athalon that accepts minors. However, competition should not be the focus. Instead, the focus should be on doing one's best. Let children pick a cause that is important to them and make sure the activity matches their physical abilities.
Children's health advocate, health industry veteran, and two-time fitness champion Merilee Kern is the author of the award-winning, ground-breaking illustrated fictional children's book, "Making Healthy Choices – A Story to Inspire Fit, Weight-Wise Kids." More at kidsmakinghealthychoices.com.