Healthy Eating on Vacation: Try a Farmers Market
Takeout from a farmers market is its own adventure. Finding markets while traveling the U.S. is easy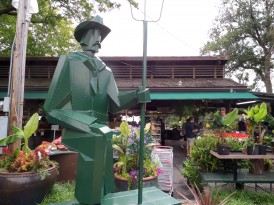 Restaurants and drive-throughs aren't the only option while on a vacation. I want you to try takeout from a local farmers market – it's an adventure all its own! Before you dismiss my suggestion you should know that there is more to the markets than raw fruits and veggies. Many farmers markets offer prepared foods too – often regional dishes you won't find at home.
Introducing new foods to the kids makes your family vacation memorable on a whole new level. The experience of walking the aisles is different from market to market, not only for the different foods you'll find at each, but also because they often carry handcrafts and arts in addition to food. Everyone is happy to talk about what they're selling and to offer samples. In an age where kids really don't know how their food is grown, you're giving them a rare opportunity to meet the grower and say, "Thanks, this is delicious."
How to Find a Farmers Market on Vacation
Use your smart phone to find your nearest farmers market or even a farm stand on the farm property. You can get step-by-step directions to plan your visit using Google Maps or another navigator. The U.S. Department of Agriculture's Local Food Directories is a fine place to start your search. It's just as easy to do a simple web search using the terms "farmers market" and the state or city.
Grocery Stores Are a Healthy Option too
Don't forget the grocery store! You'll be delighted to see what's offered, from soup and salad bars to heartier fare like roasted chicken. At the grocery, everyone in your family can choose their meal, from sushi to grilled veggie sandwiches.
Bonus: whether your food comes from a farmers market or grocery store, you can select a scenic overview or park to eat your meal in leisure and avoid the barrage of TV screens that distract from meaningful conversation in most restaurants. Enjoy!
For six more tips on eating healthy on vacation, read "7 Tips for Eating Healthy Meals on Vacation."
Tamela Rich is an award-winning author, storyteller, adventurer and mom. Known as the "American Road Trip Expert." With a passion for solo travel, she inspires people to live their best lives through her books, speeches and website. Her motto is to "Pack Light. Travel Slow. Connect Deep." Tamela speaks to business and professional groups across the country on the ups and downs of life (personal and professional) from a long-distance motorcyclist's vantage point. For more information, visit TamelaRich.com.