Healing Power of Arts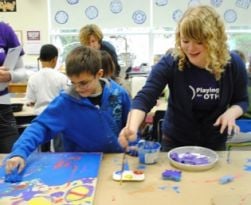 Charlotte is filled with many art-portunities to help children express themselves creatively. Experiences in the arts — whether dance, drama, music or visual art — transcend age, gender and ethnicity, and reach children in unique ways. Here's a look at two local programs that are helping kids grow … even heal.
Buddying Up With Drama, Music and More
Last month, more than 40 teens and thousands of art supporters in Charlotte took part in Arts Festival Weekend, led by Playing for Others. The two-week event included performances of "There's a Monster in my Closet" at the Actors Theatre of Charlotte, a songwriting competition and performance at the McGlohan Theatre, and a juried art show culminating in the revealing of a collaborative sculpture at Amelies.
This whirlwind of teens using their artistic talents in service to the community is the brainchild of Jen Band, the former director at Children's Theater Charlotte. Band had a simple goal four years ago: to teach teenagers to turn their passion for art into something for the greater good. That goal became Playing for Others, which evolved into a nine-month program, giving creative teens a way to connect with special needs children. Playing for Others comprises students in eighth grade through high school.
In addition to putting on the Arts Festival Weekend this year, the group of teen volunteers learned about the business side of a nonprofit organization and spent time sharing arts, music, storytelling, photography and more with a "buddy" from Misty Meadows Mitey Riders, a therapeutic horseback riding program in Waxhaw.
Caroline McKinley, an eighth-grade student at Alexander Graham Middle School, says she not only enjoyed participating in the Arts Festival Weekend, but she also learned a lot about interacting with special needs children and experienced a special connection with her "buddy."
"When kids are painting, making music, or taking pictures, they enjoy themselves," says Caroline. "These are the things we enjoy, as teens interested in the arts. When you have a common interest, you can create a bond."
"Communication through the arts is the most creative way to express oneself," explains Burke Spivey, a MyersParkHigh School junior. "And it helps people learn the true importance of acceptance, friendship and love."
From promoting inclusion and breaking down stereotypes to using creative talents to help others, Playing for Others shines as local a kids-for-kids program.
Drawing, Painting Help Cure
Hospitals can be a challenging place for children, especially those with long-term illnesses. After weeks of prodding and pricking, pediatric patients and their parents can begin to feel the longterm affects, experiencing feelings of depression, frustration and anxiety. But Arts for Life brings a colorful and fun escape to the many pediatric patients at PresbyterianHospital's Hemby Inpatient Unit and Blume Clinic. Volunteer artists and teachers help distract children from all the medical stuff , bringing joy through arts instruction.
"Arts For Life provided my daughter with a way to deal with the pain and long visits to the hospital," says one local mom. "With her Arts For Life teachers, Elizabeth was able to express herself, be herself, feel herself, away and apart from the strong medicines she was receiving. Arts For Life was a lifeline for her spirit."
The program involves bringing art, music and other creative activities to patients during treatment — sometimes directly to their rooms. The children, as well as their parents and siblings, count on Arts for Life to be there as a welcome break, changing their focus from being pricked to making a colorful puppet or folding a flock of origami birds.
And this summer, the magic of day camp — including arts and crafts, puppetry, and video and music production — will be brought to the hospital's pediatric patients. Presbyterian Hemby is the first hospital in the state to partner with Victory Junction, so that kids who are stuck in hospital beds can experience a sense of normalcy and take part in something healthy children get to do every summer.
CP