Harrisburg Unites 30,000 People with its Star Spangled Celebration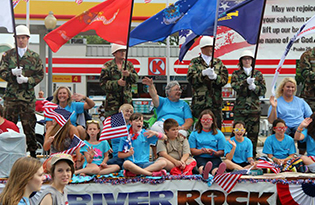 Most families in the Charlotte area celebrate America's independence with friends and family, good food, and of course fireworks. But for Harrisburg, the July 4th holiday is a three-day celebration bringing together roughly 30,000 people.
The celebration kicks off July 2 at Hickory Ridge High School for the Miss July 4th Pageant. Infants, toddlers and teens that hope to take home the crown showcase their talents to a patriotic theme. Everyone is invited with a small fee of $2-$5.
On July 3 and 4, Harrisburg completely transforms into one big festive community. The celebration begins at 4 p.m. at Harrisburg Park. Families can shop for different trinkets made by local vendors, as well as partake in games, and activities, such as a petting zoo and camel and pony rides, plus loads of live entertainment.
On July 3, family-friendly band Gal Friday performs at 5 p.m. center stage before the opening ceremony. Throughout the evening, families can purchase tickets for amusement rides, as well as participate in the "imagination station." The evening wraps up with a fireworks show at 10 p.m.
Get in the spirit of the day at the Fourth of July parade that kicks off July 4, 9 a.m. and travels down Highway 49. Action gets underway at Harrisburg Park again at 4 p.m. with more live music and festivities, including crafts, vendors, food and amusement rides for kids, all capped off with the big finale fireworks show at 10 p.m. Admission is free.
View more 4th of July events