GUIDE: Enjoying the I Heart Rail Trail: Lights Installations With Kids
Getting started, where to eat, and what to expect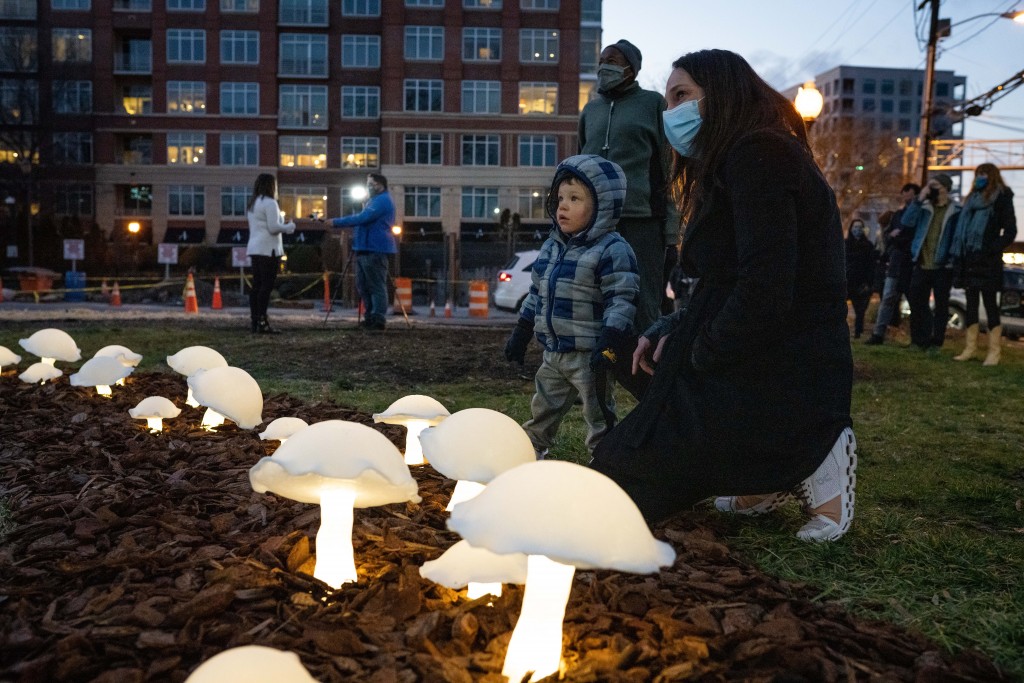 The I Heart Rail Trail: Lights program, presented by U.S. Bank, returns next month with a new slew of interactive light installations. Kicking off on March 4 and running through March 20, you'll find the work of regional artists along the pedestrian-friendly path running parallel to the LYNX Blue Line light rail. The event, known as a popular family destination in the spring, is easily navigated—even for those with little ones. Here's a breakdown on navigating the program with your family:
Getting Started
How should you walk to the South End trail? That depends on the direction you're coming from. Let's say you're beginning at 1100 South (1100 South Blvd.):
Walk away from the Uptown skyline until you reach Bland St. Station. Turn right at the Urban Design Center and walk straight until you see the Shops at the Winnifred. Walk to the front entrance of the building and you'll find the second installation.

Make your way back to Bland St. Station, and continue walking away from the skyline on the Rail Trail until you reach the installation at Dilworth Artisan Station.

Continue walking on the Rail Trail until you reach the two installations at Atherton Mill.
Simply reverse those directions if you'd prefer to begin at Atherton Mill.
Where to Eat
Sure, South End has dozens of great restaurants, but not all of them are easy to navigate with toddlers or younger grade-schoolers. Shake Shack (1930 Camden Rd., Ste. 235) and Sabor (1616 Camden Rd.), depending if your kiddos are in the mood for pizza or tacos, are both on Camden Avenue, near the Dilworth Artisan Station installation. You can also promise an ice cream for good behavior and deliver that promise at Two Scoops Creamery (1616 Camden Rd, Ste. 100).
The Atherton stops also have some beloved sit-down restaurants nearby, if you want to pace your night out with the family. The award-winning burger at Bocado Bar & Diner (2000 South Blvd., Ste. 530) or the fried chicken at The Eagle Food & Beer Hall (2120 South Blvd., Ste. 1) are just a few of the among many tasty choices that could appease the pickiest of eaters.
What to Expect
Aside from the gorgeous installations, we'd suggest to expect some brief waiting periods as folks take their selfies at the installations. As you can see with the photos from previous years here, the magic of these pieces captivates visitors of any age.
You can find more about the I Heart Rail Trail: Lights program here.