Growing Up: Safe, Sane Sleepovers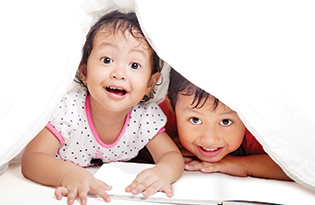 Belly butterflies, anxious goodbyes, perhaps a tear or two. No, you're not sending your first child away to college. You're dropping him off for his first sleepover away from home.
Whether a sleepover is a child's first or fifteenth, it can be filled with nerves and questions. Will your child suffer from extreme homesickness? Will she be safe and follow your family's rules? Will the experience be a positive, happy one or a major headache? Read on for an age-by-age guide to sleepover success.
0-4
To Grandma's House We Go
A child's first "sleepover" is often at a relative's home — in fact, many little ones begin having overnights at Grandma's place during babyhood. Though new parents may be desperate for some alone time (or simply a full night's sleep), it's never a good idea to rush the first overnight visit, says certified parenting coach Phyllis R D'Agostino.
First, ensure that your relative is ready and willing to take on nighttime care for a young child. Round-the-clock childcare can seem strenuous for those who aren't used to it. Have the grandparents over to your home to take part in the child's nighttime routine beforehand, says D'Agostino. On the big day, send a detailed description of the child's diet and daily routine along with a security blanket or toy. When it's time to say goodbye, don't sneak out — this could compromise trust later on.
5-11
Fun, Not Frazzled
In elementary school, the sleepover social scene is in full swing, with first invitations rolling in around age 5 or 6. Whether you accept or decline depends on your child's temperament, says Julie Newman Kingery, an associate professor of psychology at Hobart and William Smith Colleges. Consider your child's personality, developmental level and previous experiences, suggests Kingery, who has researched children's homesickness in sleep-away situations. For timid children, "practice sleepover" experiences — like attending a "movie night" at a pal's home or hosting a sleepover with one close friend — can boost the chances of sleepover success.
To host a successful sleepover party for school-age children, start with a manageable guest list (maybe three to five kids), and ensure that you have contact information for guests' parents on hand. Agree on a reasonably late bedtime and plan a few fun activities, like a build-your-own pizza dinner. Be prepared to have fun, says D'Agostino — and to be "a little tired" the day after.
12-18
Sleepover Safety
When tweens and teens sleep away from home, safety should be on parents' minds, says Kingery. "Open communication with your teen, as well as with the parents of your teen's friends, is crucial for a successful, safe sleepover," she says.
Though you may not score "cool parent" points with your child, it's perfectly acceptable to check in with the hosts' parents before a planned sleepover to make sure that rules and expectations are consistent across households.
Before the sleepover, parents should recap their family rules about curfews, drinking and co-ed parties, says Kingery. Remind your child that she can call you at any time to be picked up early if anything at the sleepover makes her uncomfortable or would violate family rules. Keep your cell phone on and nearby, then (try to) rest easy knowing your child can contact you if needed.
Malia Jacobson is a nationally published health journalist and mom.