Growing Up: Helping Kids Sleep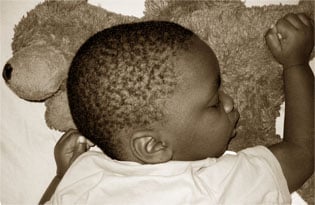 To an exhausted parent, few things are more beautiful than a peacefully sleeping child, whether the snoozing angel is a swaddled newborn or a snoring teenager. Sleep (or the lack thereof) inspires more parental angst than nearly any other topic, and troubles don't end when kids outgrow bottles and bedtime stories. From babes who fight bedtime to teens who skip sleep to surf the Internet, kids of all ages experience sleep troubles. Regardless of age, all kids need enough rest. Sleep deprivation in children is linked to academic trouble, behavior problems and weight gain. Read on for age-specific advice to help your growing child sleep well, starting now.
> Ages 0-5: Weighty Matters
> Ages 6-10: Sleep Slip
> Ages 11-18: Too Wired, Too Tired
Malia Jacobson is a nationally published health writer and mom of two. She blogs about sleep and family health at thewellrestedfamily.com.