Growing Up Grateful: Kids Who Volunteer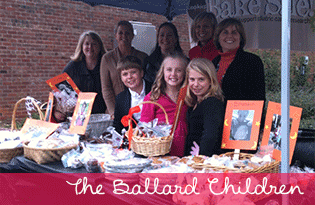 It is said that we are most alive in the moments when our hearts are conscious of our treasures. For most of us, blessings are especially apparent during the season of Thanksgiving.
As adults, it's easy for us to look within our hearts and recognize the many graces in our lives. We want to pass along a charitable spirit to our children, but it can be especially challenging in a society of credit card, clothing and Kardashian excess.
It's also especially important.
Jeffrey Froh, an assistant professor of psychology at Hofstra University, has learned through his research that grateful children lead happier, more fulfilled lives. One of the ways researchers suggest achieving this is by having children assist others and witness firsthand the true meaning of Thanksgiving.
Misty Collier, licensed psychological associate and owner of Collier Psychological Services in Huntersville, explains it this way: "Children who volunteer experience a positive change in their attitude, they feel more helpful, and their self-esteem and self-concept improve. When a child goes to volunteer, he or she gains personal experience in being empowered to change their community for the better."
Gaining this personal experience begins to turn the child's focus away from materialism and self-serving interests. Instead he or she develops a sense social responsibility and a greater sense of purpose in life. "They begin to see the big picture and stop taking their lives or their families' for granted," she says.
Looking Outward, Seeing Inward
There are multiple opportunities for families to volunteer in the Charlotte region. When Beth Nickles, who lives in the Steele Creek area, stumbled across an information booth for Bright Blessings (formerly Birthday Blessings), she thought it was a perfect fit for her and her young family – husband, Bill, and children, Faith, 5, and Will, 3. Founded in 2005 by Amy and John Cervantes of Mint Hill, the nonprofit's Bless-A-Baby and Bless-A-Birthday programs aim to raise the spirits of our area's population of homeless children and mothers. Nickles quickly became a volunteer party coordinator at an uptown shelter, with assistance from her two children, helping to bring joy to young faces with decorations, cake and presents for kids who otherwise wouldn't have a celebration. Bright Blessings has space where kids can come and help, whether by creating homemade wrapping paper covered with stickers and drawings, or designing placemats to sit under a cake-laden plate.
Nickles, who has been bringing her children to volunteer for the last two years, can already see how the experience has affected them. Recently, she and her daughter were walking down an aisle of a toy store when Faith pointed out a beautiful princess Barbie she wanted to buy. When Nickles explained to her that she already had enough toys, Faith said, "Not for me, Mommy! I want to buy it to give to a little girl out there who doesn't have anything."
Even Will, barely out of toddlerhood, grasps the charity concept. When his mother asked what he wanted to do for his own birthday, Will insisted he have his party at Bright Blessings, where he and his guests would assist in creating a celebration for one less fortunate.
"I want my children to grow up with the idea that it is not all about them all the time, and the awareness that there are others out there in much worse positions – children without clothes or toys, or a book to read," Nickles says. "I want them to always remember how blessed we are and to always remember to be a blessing to others."
A Broadened Perspective
Lori White's children, Lauren, 12, Whilden, 10, and Harrison, 5, live a comfortable life in Midland – so comfortable that White started to worry about what they weren't seeing. "I thought it was important that they understand not everyone has this rosy, utopic life."
Through their church and Cabarrus County's Cooperative Christian Ministry, the Whites "adopted" a needy family last Christmas, donating food, clothes, presents and their time. They visited the Spanish-speaking family and learned (through a translator) that the mother had been diagnosed with terminal cancer. In addition, the tiny trailer the family shared had no heat, forcing the parents and children to sleep on the living room floor each night, just to stay warm.
Despite the differences in their cultural and economic situations, White's children discovered that all kids share an affinity for fun. Lauren and Whilden quickly set about showing their new friends the toys they'd brought, playing with them and trying their best to communicate despite the language barrier.
The White family returned to visit again at Easter. Their volunteering experience especially resonated with Lauren. "I realized that I was taking for granted what I had," she says. "It had never really occurred to me that there are people who don't have a warm bed, plenty of food, a nice home or good health."
Developing Responsibility
Don't be surprised to find 14-year-old Ballard Reynolds and 12-year-old Mary Grace Reynolds running their own Fortune 500 companies one day. After all, the brother/sister team has commandeered bake sales for the Cookies for Kids Cancer nonprofit for the last three years. Founded by Gretchen Witt in honor of her son Liam, who succumbed to the disease last year, the charity hosts bake sales, in which "Good Cookies" cook up treats to sell and raise funding for pediatric cancer research.
Ballard and Mary Grace became involved with the organization because of a personal connection. Their mother, Donna Reynolds, is a friend of Witt's. And the brother-and-sister team takes its "job" seriously, single-handedly running the Cookies for Kids Cancer booth each year at the three-day Christmas in Davidson event, as well as at the town's Halloween parade. The two are responsible for setting up the sale space, bagging and labeling thousands of sweets, and selling them over the course of the weekend. Each year, as Ballard and Mary Grace place pictures of local children afflicted with cancer around the booth, they are reminded how fortunate they are – and how easy it is to help others.
"We took on Cookies together as a family, but really it's the two of them who do all the work," says Donna Reynolds. "It brings tears to my eyes to watch them work at something they believe in." In addition to being a character-building experience, the brother and sister are quick to point out that they have fun running the booth.
Amy Salvatore Reiss is a freelance writer. She is the mother of two girls and lives in Davidson.

Related Articles:
> Putting Heart in Your Family's Holiday
> Sharing Cake, Candles and Care
> Lend a Helping Hand
> Good Deeds: Tanisha Johnson
> 9 New Years Resolutions for the Whole Family