Growing Positive Body Image in Girls
Charlotte author Kimberly Mohns Roberts' book "Just Perfect" helps children develop a positive body image at a young age.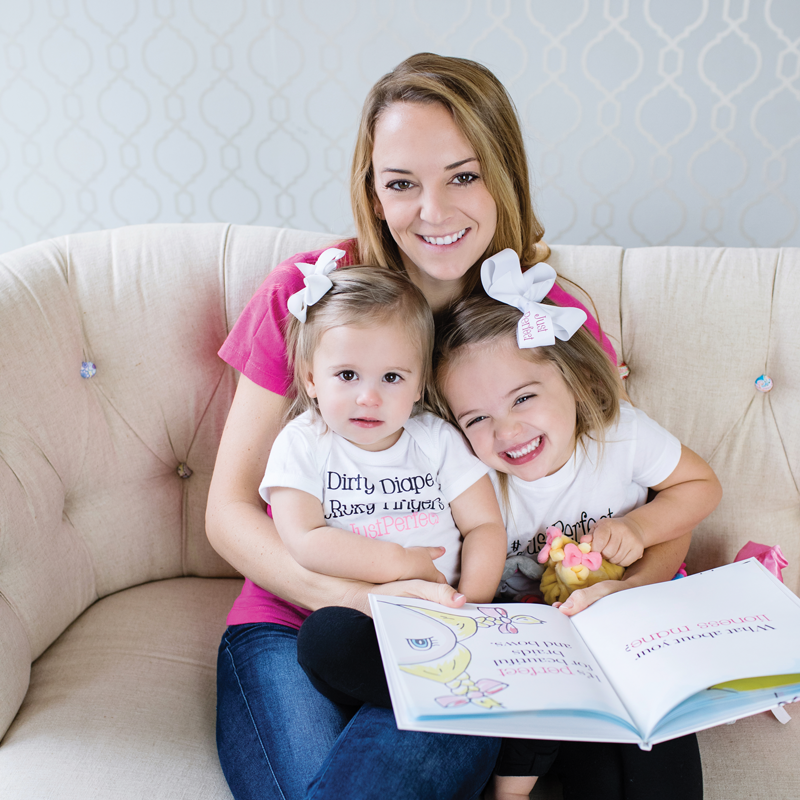 Self-image and self-esteem are personal characteristics that shift back and forth throughout a person's life. A carefree toddler has no worries about chubby legs and a belly that pokes out. Preschoolers continue to love learning about the world around them and rarely think about whether their arms are too long or legs lanky. In the middle grades, however, kids start to take notice of others. They notice similarities and differences in body types. My 8-year-old son is known to take a minute in front of a mirror to observe his developing "eight pack."
Charlotte mom and author Kimberly Mohns Roberts is dedicated to helping children, including her two daughters who are 1-1/2 and 3-1/2 years old, develop a positive body image while in their early, formative years. In 2017, Roberts self-published the children's book titled "Just Perfect," which she also wrote and illustrated. The story is a call-and-response story that follows the conversation of a mom and daughter with the mom assuring her daughter about questions she has about her body. With her flamingo legs and hippo belly, the reader gradually is introduced to the beautiful ballerina character whose mother reminds her that her body is just perfect the way it is.
Personal Inspiration
As a teen, Roberts didn't know where she fit in. She loved art and fashion, and aspired to be a fashion model. She struggled with depression and attempted suicide.
"I struggled to find friends that were like me," she says. She now realizes it's not about finding someone that's just like you. "There's only one you, and you'll find someone that compliments you and has similar interests, but you need to love and accept yourself as you are."
After having her second child, Roberts opted to leave the corporate marketing world with the mission to help young girls learn to love themselves so much that they would never go to the extreme she did in trying to commit suicide.
"After having another daughter, it pushed me down the path to start talking about what I went through (as a teen)," Roberts says. She had long thought she'd write a book about her experience, but as a mom of toddler and infant girls, she realized how the early years are important for teaching children about body positivity.
"I want to give tools to little kids to talk about the things we question and things we worry about, and build them up while they are younger," Roberts says.
She started writing and drawing, and got excited about the children's book character that took form. By using animal body parts, such as flamingo legs and elephant ears, the character embodies an animal unlike any other whose questioning of how she looks is backed by a mom's encouragement that she is "just perfect" the way she is. By choosing to illustrate the message with an animal character rather than a person, Roberts hopes it makes it easier for parents to talk about body image with their child and is a character kids can love without comparison.
More Than a Story
In addition to her book, Roberts engages children at public speaking engagements. She has shared her personal story to the Hornets Nest Girl Scouts, local middle schools and dance studios. PlayPlay! Theatre is also creating an on-stage version of "Just Perfect" for its 2018-19 season. She also has a book for young boys in the works and aspires to start a foundation. Roberts supports Girls on the Run and its mission to empower girls to be their best through healthy lifestyles and working to achieve goals.
"People struggle with surviving depression because they don't believe in tomorrow," she says. "Girls on the Run teaches girls they can do anything they work for."
A portion of proceeds from the sale of "Just Perfect" is donated to the American Foundation for Suicide Prevention. "I am a suicide survivor, but had no idea how many young kids are affected by suicide," Roberts says. "I want to give back to these programs with people who know and do research to create formal programs to help people in need."
Parenting Mottos
As a parent, Roberts has learned to embrace positivity and patience. She wants her children to learn to leave room for error, and be patient and positive with themselves. She has two mottos she wants her girls to embrace as they grow up. The first is to look in the mirror and realize you are just perfect as you are.
"You can hone in on talents and interests, but you don't need to change you," she says. "You are the only you in the world."
The second motto: stick around. "Stick around because you never know who you are going to be," she says. "I wanted to be a fashion model when I was 16, but now I'm a role model as a mom, and I'm an author and public speaker. I couldn't have dreamed of it as a kid. You can dream, but sometimes you can't dream the reality of 20 years from now."
Find Roberts' book "Just Perfect" ($19.95, hardback; $10.95, paperback, Catskill Publishing) at Park Road Books, Brilliant Sky Toys, CLT Finds at Seventh Street Market, Argyle Alligator and at amazon.com.