Group buying? Deal or No Deal?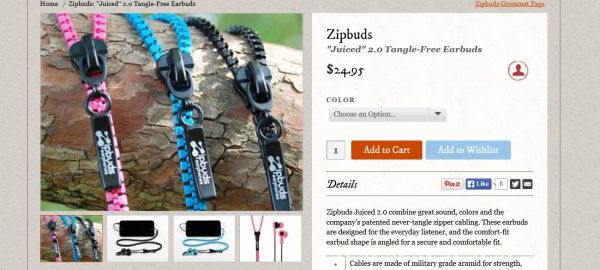 With the explosion over the past 5 years of "Group Buying" deal sites like Groupon and Living Social as well as about a network of about 100 other similiar sites, it is very apparant to me that most are not the deep discount they boast about. Many of these sites have now branched into sub sections like travel deals, adventure deals and merchandise and it now seems like you can buy just about anything through these deals.This example is a pretty mild one, but I am certain you'll get the drift of what I am saying.
Today one of these deals really caught my eye .Zipbuds were a cool item I found back in 2011.  I am always on the look out for great gift ideas an Zipbuds really fit the bill.  The Grommet is a website that introduces new and inventive products and focuses a lot on unique gifts. Beucase I had looked at the Zipbuds several times over the past years for various gifting opportunties, I knew what the promo photo looked like. Today when I got this email with the same photo I reminded me I wanted write this blog post! 
The deal was for $18 –  55% off the $40 "Value".  Notice it doesn't say MSRP or Retail price. Value is a made up price that these merchants use to back down to the price point they want to sell the tiem at.  The product was launced on The Grommet in 2011. The founders of the Grommet work with the inventors or owners of the company, not resellers or close out buyers.  So if you can still buy them on The Grommet for $24.95 today the deal is 25% off, not the deep deep discount these sites pride themselves on providing.  You'll also noticed they aren't called ZipBuds, but tangle-free zipper earphones and the photo used on the deal site has the logo of the company edited out so you couldn't do a quick search to compare based on the name of the product. 
The moral of the story is caveat empor – BUYER BEWARE.  Just because they say its a great deal doesn't mean it actually is. I always do a quick internet search of the item I want to buy, espeically if its from a daily deal site. Try it and you'll see what I mean!
~Saving Money is just MOM$ENSE