Green Scene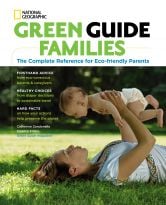 Germ Free and Kid Safe
CleanWell's travel-friendly hand sanitizing sprays, soaps, wipes and foams are made with ingredients from renewable plants. Best of all, the cleansers are completely safe for kids. The eco-friendly formulation of thyme and plant essential oils is proven to meet FDA standards for 99.99 percent germ-killing efficacy, providing an effective natural alternative to the toxic ingredients found in many antibacterial and sanitizing products. Starting at $8.99, find at Whole Foods and select Target stores, or go to www.cleanwelltoday.com.
Huntersville Mompreneur Goes Organic
One local mom, who was determined to create an environmentally friendly store and was tired of all the unhealthy products on the mark, has launched a user-friendly and resourceful online store at www.OrganicEcho.com. This one-stop-shop of organic, eco-friendly and natural products for the entire home and family offers a selection of fresh and unique products for the whole family. Log on and support a local mompreneur and the earth.
Energy Star Schools Shine
ReidPark and Winding Springs elementary schools were recognized as being among the country's most efficient school buildings in 2009 and have been awarded the federal Energy Star designation. The Energy Star program, created by the Environmental Protection Agency and Department of Energy in 1992, is voluntary and intended to encourage more energy-efficient buildings and appliances to help reduce the nation's carbon footprint and greenhouse gas emissions. The two schools join 76 other buildings in MecklenburgCounty that have earned the Energy Star designation since 2005.
A Little Green Book for Parents
Put the emphasis on green parenting – from selecting school supplies to choosing a safe and earth-friendly toy for your child – with "Green Guide Families" by Catherine Zandonella (National Geographic Books, March 2010). The author takes parents through the pros and cons of green options and explains the gamut of hazards and health risks, as well as the constructive things every parent can do to eliminate waste and promote greener living. This is the new guide for eco-conscious parents and a handbook for the hard decisions moms and dads make every day. Find it at bookstores for $21.95 or on Amazon.com.
Pop Goes the Recycle Bin
This creative new product is perfect for collecting recyclables at birthday parties, kids soccer games and neighborhood picnics. Flings Recycling & Trash Containers ?are convenient, portable, compact bins that snap open accordion-style to hold up to 60 cans or bottles (about the size of a kitchen trashcan). These compact trash solutions carry the Sierra Club Green Home seal and make recycling and clean-up fun. Available in four different colors and designs for $15.99 for a four-pack. Grab one for your next birthday party at ?www.flingsbins.com.