Green Scene: Water Saving Tips and Green Products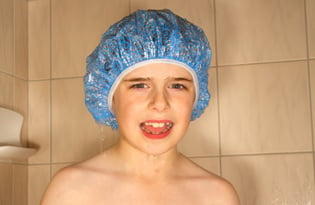 Green Tip …

Did you know that if everyone in the United States shortened their shower time by one minute, we would save 85 billion gallons of water each year?
So, here's how your family can help. Put timers in the bathrooms. Challenge the family, especially water-wasting teens, to race to see who can take the fastest shower, while still getting hair washed and completely clean. Rewards for the weekly winner help motivate. You'll save on water bills while saving the planet, one short shower at a time! Find out more water-saving tips at CharlotteParent.com/lifestyle/greenliving.?


52 Nature Adventures for City Kids
From Jennifer Ward, the author of "I Love Dirt!" comes this little green book titled "It's A Jungle Out There!" This compact guide offers simple activities to introduce children ages 4-8 to nature all around them. Even in the concrete jungle of the city, there are surprising and fun ways to explore the green spaces around you. Help them discover ways to make wild vs. man observations or become an urban birder. Each activity is cleverly illustrated with a summary note about what it promotes, such as physical fitness, observation skills or exploration, and it's available as an e-book, making it even greener.
?

Eco-Chic Bag Ladies
That green grocery store bag is so passe. And don't even be caught with the goody bag from last year's charity event. Instead, get your style on with Envirosax, the original designer reusable bag – an inexpensive and fashionable alternative to tacky plastic bags and eco-friendly drags. You can be eco-chic when you pick up your organic veggies at the local farmers market with these fun, graphic bags that fold compactly into a roll with a snap. You'll throw away all those logo-ridden promo bags and thank us! The cost is only $8.95 for a single bag, or grab a pouch with five bags tucked inside for $39.95. Find them in amazing styles and colors at www.envirosax.com.
?

Minty Fresh Breath – Naturally
Keep your mouth minty fresh with this new 100 percent natural formula mouthwash, free of fluoride, sodium lauryl sulfate, alcohol or other chemicals. Kiss My Face Breath Blast prevents cavities and reduces plaque buildup while soothing teeth and gums with fresh mint flavor. It contains green tea, goji berry, pomegranate and perilla seed extracts for an antioxidant boost, too. Xylitol helps reduce cavities and strengthens tooth enamel. Licorice root and certified organic aloe soothe and heal gums. That's a long list of natural ingredients to make your breath minty fresh. Try Spearmint, Vanilla Mint or Orange Mint flavors for $9.95 at Whole Foods.?

Botanically Clean
Vaska herbal detergent is all botanicals invented by a woman who is a clothing designer. All safe, all natural, these products claim to leave fabrics softer and lasting longer with a natural formula that is gentle on your skin and the planet. Eco-friendly, hypo-allergenic laundry products that actually work … now, what's not to love about that? Try it in lavender or unscented, and grab the oxygen bleach, spot-off and softener for the whole laundry line. The cost is $9.99 for a 48-ounce bottle (32 loads) of detergent. Available at Target and Amazon.com.
?