Green Scene – October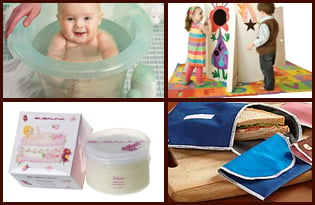 Eco Bath for Baby
Made from 100-percent recycled plastic, this unique upright tub is relaxing for your baby and good for the planet, too. Designed from your baby's point of view, it allows babies to bathe in a natural upright position with warm water to chest level. It is safe, non-toxic and recyclable. $46.95. www.spababytubs.com.
3-2-1 Blast Off!
The Shuttle Imagination, by Crafty Kids Playhouses, was created by two Atlanta dads who experienced the cardboard box phenomenon while their kids tagged along on an office move. As the dads packed up to move their offices, the children were more intrigued with the empty moving boxes than the toys brought along for entertainment. Hence the award-winning idea was launched. This eco-friendly spacecraft, as featured on The Today Show, is made from 100-percent recycled cardboard with a white exterior so kids can color their own designs. And it's also available in playhouse cottage style. Purchase includes a coupon for a free 8-pack of 100-percent recycled crayons redeemable online. $69.96. Toys & Co., Costwold Village Shopping Center, 704-365-7890.
Be Greener With Bubalina
Mom needs a little pampering now and then, and what better than an organic sugar scrub? In the month of October, Bubalina will donate 25 percent of the sales from their Dolcetto line of organic products to the Susan G. Komen for the Cure fund in honor of Breast Cancer Awareness month. The deliciously scented Dolcetto sugar scrub exfoliates gently, leaving skin smooth and soothed with a scent reminiscent of white butter crème cake. $24. www.skin-organics.com.
Bag it and ReUsie It!
We just can't get enough of eco-friendly sandwich and snack bags. Parents pack hundreds of lunches a year, each one potentially filled with plastic bags that may end up floating in our trees and our seas. Now there's ReUsies™, a re-usable alternative to sandwich/snack bags, with the potential to eliminate hundreds of plastic bags. They are 100-percent cotton-lined with leak-resistant nylon and secured with Velcro® closures. $16 for combination pack (one large and one small). Lizzie Lu's in Lincolnton, 704-732-2900.