Green Scene – August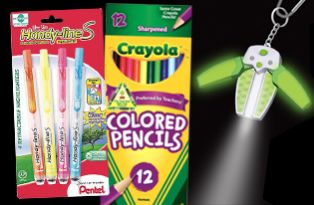 Highlighting the Ecology
You've heard of the three R's – Reading, writing and 'rithmatic. Now get something that helps you with the eco-rs — recycle, reduce and reuse. Super bright yellow highlighters are on the must-have list for school supply lists, so why not use one made from 54 percent post-consumer recycled plastic? The Pentel Handy-Line S is also refillable, befitting the savvy eco-student. $2.75
Color Me Green
Crayola is helping keep the world green. Did you know Crayola colored pencils are made with reforested wood? And for every tree used, another is planted. Their markers recently got a recycled look, too. Black barrels allow more recycled materials to be used, giving a second life to more than 1 million pounds of plastic bottle caps. Even their classic crayons are being produced using solar power. It's good to know the familiar yellow box is now showing that green is more than a color. Find Crayola products anywhere supplies are sold.
Recycle and Earn
Did you know billions of drink pouches are thrown out each year? TerraCycle collects these discarded pouches and turns them into cool products. Sponsored by the drink pouch makers themselves (CapriSun and Kool-Aid) these groovy pencil case holders will be the talk at the lunch table. You can get your school involved too. Collect drink pouches, turn them in and collect cash for your school. Go to www.terracycle.net and find out more. Pencil cases starting at $2. (TerraCycle makes lunch boxes too. See page XXX)
Solar Powered Safety
Children will love Solar Bug because it's totally cool! Parents will love them for their solar powered LED light that can be seen in a 360-degree radius for a distance of up to one mile. With wings expanded the little light bug emits an even brighter light. The keychain ring easily attaches to a child's backpack, keeping them visible and providing a little extra light when needed. This cute gadget for the green-minded is available online at www.sentinasmart.com/solarbug for $10.
Sustainable Fundraising
The Equal Exchange Fundraising Program is partnering with Ten Thousand Villages to make the ultimate fair trade fundraiser. Sell high-quality coffee, tea, chocolate and snacks grown with sustainable farming methods while raising money for your school. Get 40 percent profit, free shipping on large orders and even Kosher, gluten-free and vegan options. Their new partnership creates even more ways for children to make a difference in the world. Find out more at www.equalexchange.coop/fundraiser. Want to do something today? Shop your local Ten Thousand Villages store in Cotswold Village Shops, 300 S. Sharon Amity. 704-365-0010.