Grandfather Mountain: A Bounty of Beauty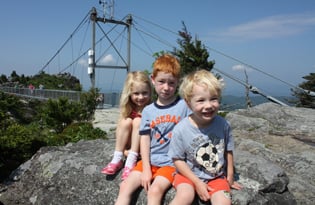 For generations, people have flocked to Grandfather Mountain to experience its beauty and wonder. Recognized as an International Biosphere Reserve, Grandfather Mountain supports 16 distinct ecological communities in less than 5,000 acres.
With awe-inspiring views of the Blue Ridge Mountains, and diverse wildlife and vegetation, Grandfather Mountain offers families the chance to explore the terrain at their own pace and comfort. It's an exciting daytrip for my husband and I, with our 5-year-old twins, Mila and Eli, and Siler, who is almost 3.
About two hours from Charlotte, Grandfather Mountain is located near Linville, and also is a pleasant stop on a weekend getaway to Blowing Rock or Boone.
A Bridge of Wonderment
No trip to Grandfather Mountain is complete without a stroll across the Mile High Swinging Bridge. Dedicated in 1952, the 228-foot long suspension bridge gives visitors panoramic views of the landscape at one mile, or 5, 280 feet above sea level. The bridge, which was rebuilt in 1999, provides access to Grandfather Mountain's Linville Peak. It doesn't sway, or swing, as people expect, and there are beautiful views in every direction. Once across the bridge, little ones must be watched closely, as there are steep and dangerous cliffs.
From the summit parking lot, the Mile High Swinging Bridge is accessible by stairway. The Top Shop, which houses a gift shop and restrooms, is outfitted with an elevator for wheelchair or stroller access to the bridge.
The Split Rock and Sphinx Rock also are worth a stop along the summit road. Visitors marvel at the enormous size of these gigantic boulders that are 1 billion years old. Kids can crawl underneath and peer through the big crack.
Children of all ages will delight in a walk through wildlife habitats that are home to black bears, river otters, white-tailed deer, cougars and a golden eagle. In contrast to a zoo, wildlife habitats allow visitors to observe animals in action in a natural setting. Large enclosures surround the animals in their habitats, so be aware that they may not be visible from the viewing areas at all times. Viewing areas are elevated above the habitats on retaining walls or separated by moats. For an additional fee, visitors can take the Behind the Scenes tour of the animal habitats.
Educational Adventures
The Nature Museum educates visitors about the natural history of Grandfather Mountain. Exhibits include minerals and gems, Native American artifacts, early explorers to Grandfather Mountain, native birds and animals found in wildlife habitats, and plant life.
While young children may enjoy a walk through the museum, it's probably best suited for families with school-aged children. Junior Ranger booklets, which include a scavenger hunt through the museum and a quiz about environmental habitat animals, are available to heighten the educational experience. Completed booklets can be returned at the entrance gate to earn a Grandfather Mountain Junior Ranger button. While at the museum, you can visit the gift shop or grab a bite to eat at Mildred's Grill. Indoor seating is available, but picnic tables on a deck outside the restaurant allow families to observe birds fluttering about bird feeders. Picnic tables also are sprinkled throughout the park.
Hikes to Remember
One of the best picnic settings for families is located next to The Woods Walk, a four-tenths-mile trail through a mature Appalachian forest. The loop is relatively flat and a reasonable hike for young children. The Woods Walk boasts more than 64 different flower and plant species, and 19 varieties of trees. Kids also can enjoy climbing the large rocks just outside the trail.
Also stationed by The Woods Walk is a cabin studio where families can often catch a glimpse of renowned woodcarver Tom Wolfe at work.
The Bridge Trail and The Black Rock Nature Trail are recommended for family hikes, too. These trails are longer and more strenuous, so they are best suited for families with older children or teens, who can maintain stamina for a 40- to 60-minute hike.
If You Go, You Need to Know:
US 221 and Blue Ridge Parkway, Linville
800-468-7325
Rates
Ages 13-59: $15
Ages 4-12: $7
Ages 60+: $13
Children under age 4 admitted free
Hours
Spring and Fall: 8 a.m. – 5 p.m.
Summer: 8 a.m. – 6 p.m.
Winter: 9 a.m. – 4 p.m.
On the Web
www.grandfather.com