GoPlaySave! Goes Digital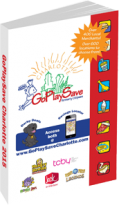 Local Charlotte couple Brian and Tammra Granger have grown their local coupon book from their home in South Charlotte. Each year the couple produces the best local coupon book chock full of discount deals for restaurants, family attractions and retailers.
Formerly known as Citipass, the book was renamed GoPlaySave after the folks at Citibank had a beef with the similar spelling. Local schools, churches and non-profits sell the books for $30 and keep anywhere from $5-$15 per book, depending on the quanties sold by the group, which means anywhere from $200,000-$600,000 annually is given back to organizations. Its much closer to the $600,000 from what I can tell becuase it doesn't take long for even a small school to reach the higher earning tiers. The 2015 edition released in late August and local groups have be feverishly selling them. The 2014 book doesn't expire until the end of this month so if you have a current edition don't throw it in the recycling bin yet.
I've been couponing for many years and don't mind clipping and saving scraps of paper (athough I loose as many coupons as I use). In my years of talking with people about using coupons the number one objection is having to remember to bring the coupon. A new digital version of the GoPlaySave book takes the guesswork out and you won't ever forget to bring your coupon (ell unless you forget your smart phone HORRORS!). The digital version can be bought from any organization and downloaded immediately to your smartphone with a password you set up. Once on your smart phone you can browse all the offers in the digital version, which is very similar to the paper version. It also has a handy "around me" feature so if you are looking for a spot to grab a bite you can hit the button and the offers close to you will populate. As you redeem on the digital version, just flash the code at participint merchants, the app also keeps a tally of how much you saved.  I am up to $22 already for this year's investment. 
Want to give it a try? To buy a 2015 Digital GoPlaySave Book click here St. Ann School in Charlotte will benefit.  Or you can go to the GoPlaySave website and buy one direct. Are you using the digital or paper book this year? Love to hear what offer(s) you look forward to the most.  I'll also be pointing out deals from time to time that you may have overlooked.