Good Picks for Summer Reading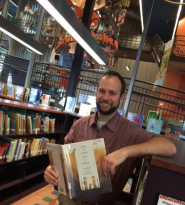 Summer is coming guys, and now is the time to get prepared. Be sure to pack your sunscreen, your umbrella, your snorkel gear, and your swimsuit. The beach and sand is calling you. Now wait, don't step out the door yet! You need one more thing. A good book.
Here's just a small taste of some great new books I discovered at the Charlotte Mecklenburg Library. I hope you like them!
Sam and Dave Dig a Hole by Mac Barnett, illustrated by Jon Klassen
Nothing spells summer like getting outside in the dirt. This book tells the tale of two guys named Sam and Dave who go on an adventure, and it all starts by digging a hole in the ground. They are looking for treasure, and the feel like they are getting close to something big. Something SPECTACULAR! Equipped only with two shovels, a bag of animal cookies, a canteen of chocolate milk and their unnamed dog the two set off to explore the subterranean world beneath them. Their journey, however, leads them on some unexpected paths, and in the end children who read this book will learn that sometimes the journey is much more meaningful than the destination. I see this being an excellent read for someone who struggles staying entertained on a long minivan excursion.
The Impossibly True Story of Tricky Vic: The Man Who Sold the Eiffel Tower by Greg Pizzoli
Ever wonder what it takes to be a world famous crook? Well, this book is for you, friend! Granted, I know that recommending a book that highlights the exploits of a semi-famous criminal to today's youth is a bit strange, but I couldn't help but enjoy learning about the con man who "sold" the Eiffel Tower to an unsuspecting victim, and then tried to do it again. Tricky Vic had an elaborate career of conning anyone who would take his bait, and as children read about his varied exploits they will undoubtedly learn something new (SHHHH, don't tell them they will learn!) Prohibition, counterfeiting and Al Capone all make appearances in this wonderful biographical picture book, and the art style will keep young eyes pinned to the page.
Roller Girl by Victoria Jamieson
Astrid is growing up. Next year she'll be going into junior high with her best friend, Nicole. The thing is Astrid and Nicole's paths are diverging; Astrid likes roller derby and the thrill of the bout, and Nicole-well Nicole likes ballet. Ballet and boys. Eww. This graphic novel is all about growing up, being courageous enough to find your true self, and learning that sometimes, things that you once thought were rock-solid have to change. This graphic novel is perfect for the roller derby aficionado or anyone who is stressing out over growing up (adults included).
While you are reading all these wonderful titles don't forget to participate in your public library's Summer Reading Program starting in June! It's for children, teens, and adults! After all, if you are going to read you might as well get prizes for it! Find out more at www.cmlibrary.org