Good Gadget: Cabana Picnicware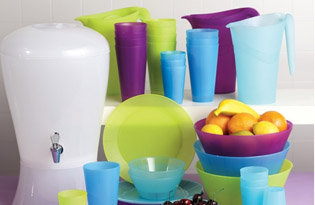 Spring is here, and its time to gather the family together on the patio or head to the park for a picnic. The new Cabana Picnicware collection from Anna's Linens is perfect for any outdoor activity. Made of durable plastic, the colorful selection is lightweight for little hands and easy on the pocketbook, too – a four-piece set of plates, bowls and tumblers is $1.99. The serving bowl also is $1.99 and the pitcher is $2.99. Or, purchase the 3-gallon beverage dispenser for $19.99.
Available locally at Anna's Linens on Eastway Drive and South Boulevard.