Going 'Over the Edge' for Special Olympics North Carolina
Adventure seekers rappel the Hyatt House uptown Nov. 14 to raise money for Special Olympics NC.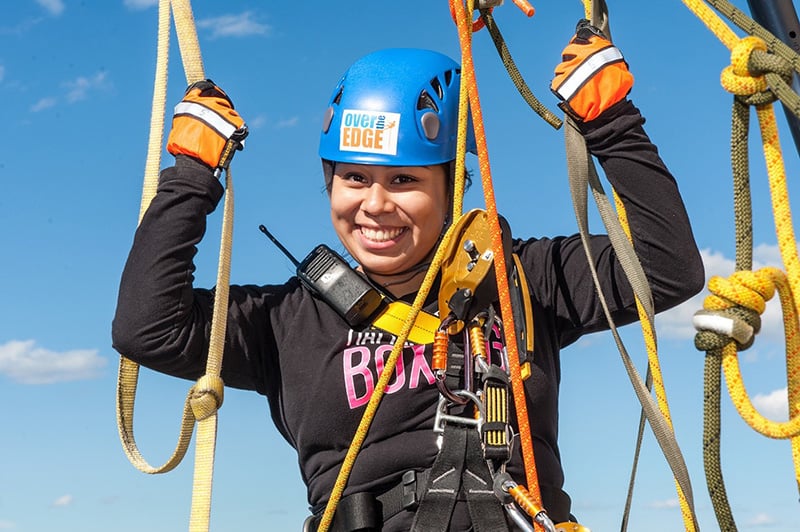 The Queen City is going over the edge Nov. 14 to support Special Olympics North Carolina. Adventure seekers have an extreme opportunity to rappel Charlotte Center City's 18-story Hyatt House to raise money for SONC.
Registration was open to individuals at least 14 years old or older weighing 110-300 pounds and teams — no climbing or rappelling experience required. The quickest fundraisers were given prime-time slots.
High-wired Charlotte notables on the roster include WBTV's Ashley Stroehlein; Kayla Ayres and Nick Kosir of FOX 46; CharlotteFive's Corey Inscoe; mascot Chubby Checker of the AHL's Charlotte Checkers; and North Carolina's 2015 Special Olympics Athlete of the Year, Robin Callaway of Matthews. Sport Clips Haircuts picked up three slots in Charlotte for adrenaline-wanting customers.
"Over the Edge will accommodate an estimated 300 people in 2015," says Megan O'Donnell, vice president of communications for SONC. "Some employees raise the money to send the boss Over the Edge."
Each participant is expected to raise a minimum of $1,000 from family, friends, customers, co-workers, or companies, making it a lucrative fundraiser for SONCE and an adventure of a lifetime for thrill-seekers.
Over the Edge funds will benefit Special Olympics North Carolina programs offering year-round sports training and competition for nearly 40,000 children and adults with intellectual disabilities. Athletes train and compete on local and state levels in 19 sports, providing motivation, building self-esteem, and creating opportunities for success.