Going Digital in Today's Classrooms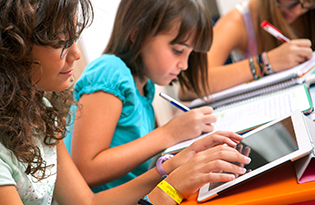 Remember walking through the door of your fourth grade classroom, and being greeted by the fragrance of freshly-sharpened pencils? Or lovingly wrapping up your math book in brown paper, rendering it a present to be opened later, spilling the secrets of the order of operations or solid figures?
When your child walks through that same fourth grade door now, their classroom looks vastly different. Those pencils aren't as necessary when you're creating a shared document of vocabulary words on your iPad mini. No need to cover that textbook with brown paper when it's been replaced with an app that allows students to watch and listen to a teacher guiding them through a pre-algebra problem. Welcome to the new digital classroom, where the traditional textbook is beginning to take a backseat to devices and technology.
Ch-ch-ch-changes
The fact that our educational system is shifting into the digital age may come as no surprise to parents. Mooresville Graded School District set a precedent and made national headlines back in 2007 for its digital conversion, equipping nearly 4,500 students in grades four-12 with laptops, as well as outfitting the younger grades with SMART Board technology.
What parents may be surprised to learn, however, is how quickly that digital landscape is changing, in all districts. Charlotte Mecklenburg Schools Superintendent Heath Morrison hired a team, led by Valerie Truesdale, chief learning services officer, to create within schools an environment ready for digital transformation.
"Our vision is to equip our teaching spaces with infrastructure necessary to access the world and build capacity of our teachers in using digital tools to increase student engagement," says Truesdale. "Nothing replaces a high-quality teacher in the classroom, skilled at stretching all learners. Technology engages students at high levels so that highly skilled teachers can reach more students, better."
Truesdale adds that accountability is moving towards the future, with a personalized, individualized plan for learning, including an electronic portfolio that can be developed for each student over the next few years.
How is it Happening?
Many school systems are accomplishing this vision by partnering with providers of digital textbooks and curriculum-based digital content. CMS has partnered with Discovery Education. According to Connie Rechner, senior vice-president of Discovery Education, "the mission of Discovery Education is to support educators with digital solutions, customized professional development, and the largest teacher community of its kind, empowering them to prepare today's students for success in our increasingly global society."
Discovery Education Streaming Plus provides instructional videos, skill builders, games, audio files, images, writing prompts and encyclopedia articles. Students in the middle schools are also given social studies and science techbook, replacing traditional textbooks. This is possible through the expansion of laptop carts and the Bring Your Own Technology (BYOT) program that CMS is piloting, allowing students to bring in their own devices for learning purposes. All CMS schools are now have WiFi access with mobile units soon to follow.
Rechner has high compliments for how CMS has approached the integration. "What makes the CMS team truly different is that they are leading this digital conversion with sound instructional strategy and curriculum, not with devices. That, in and of itself, will make all the difference for the school children of CMS and the educators who are serving them," she says.
At the Private School Level

Within the private schools, the change is happening as well. Providence Day School is piloting a program in which each student in grades four, six and nine receives an iPad Mini that they retain throughout the years. In addition to accessing apps and digital textbooks, they use the iPads to build their own digital libraries and take Coursera courses. Coursera — an education company that offers free online courses — is already being utilized in a unique way at the high school level. One class, modern and contemporary American poetry, is being taught in part by a University of Pennsylvania professor, and students can engage in online discourse with other students from around the world.
Matt Scully has been Providence Day's director of technology for the last eight years. He also instructs a ninth-grade English course, so he witnesses firsthand how to blend curriculum with technology. One example of how technology is being utilized in class is how he and many teachers can borrow chapters from different sources to put together digital packets of information that act like textbooks, but in a way that's more meaningful and pertinent to the class.
Looking Ahead, What We're Leaving Behind
So, exactly what will your kindergartner's classroom look like once he or she reaches middle school? With technology changing so rapidly, anyone's guess is a good one. But it's likely it will look less and less like the traditional classroom. The digital classroom of tomorrow is becoming even more of a global, multi-pronged approach, as more and more teachers are utilizing the flipped classroom concept. This is a form of blended learning, in which students learn the new content at home, usually via videos prepared by the teacher or a third source, such as Khan Academy. The next day, the assigned problems that used to be homework are worked on in class, with the aid of the teacher. This allows students to ask more personalized questions, and for the teacher to zero in on each child's specific challenges.
As for the future, maybe your child will one day be teaching you Mandarin that they learned in a blended classroom, taught by a professor in China.
Amy Salvatore Reiss is a freelance writer and mother of two who lives in Davidson. This year, her first grader is interacting with other students from around the world via video-conferencing to learn about the endangered White Rhino.

Read more from the 2013-14 Education Guide:


View all articles