Going Back to School as a Family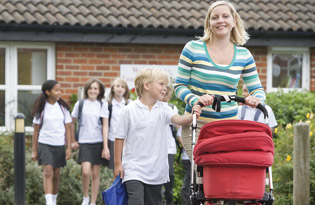 Getting children ready to head back to school seems fairly straightforward — purchase new clothing, backpacks and school supplies, and they should be all set. In reality, however, back-to-school preparations should include each family member in order to ensure academic success throughout the year.
Positive attitudes and family discussions can help make the transition as smooth as possible.
"I think the most important thing a parent can do is make sure their kids are in the right frame of mind to learn and grow at school," says Erica Perel, a Hillsborough mom preparing to send her oldest child to kindergarten this year. "By that I mean they are well-rested, well-fed, have respect for their teachers and the attitude that learning is fun, not something to be stressed about."
Letting your children overhear you bemoan getting back to making lunches, running for the school bus and looking over homework won't help them feel excited about the year ahead. Here are more tips from experts and parents to help Mom, Dad and the kids step into the classroom with confidence.
Reset the Family Clock
Don't wait until the day or night before the first day of school to get everyone back into the school-year groove. Janice Wood, whose children attend a private school in High Point, says she gradually begins changing her family's routine in early August.
"We go to bed earlier and get up earlier," says Wood. "We also try to have meals at the same time, so the kids' bodies get prepared for the school year. I begin to limit their TV time, because during the school week, I don't allow TV or video games."
Consider prodding children and teens out of their summer slump. Beyond setting the alarm clock an hour or so earlier, start now to get them back into the habit of doing simple chores around the house to prepare them for new routines in the classroom. Children as young as 6 or 7 can help with clearing the table after dinner and putting dishes away.
Get Organized
Chaos at home can transfer into the classroom. Parents and teens can model for young children good organization by making lists, writing down appointments, arriving at places on time and keeping papers neatly stacked or in folders. Families should have designated places where backpacks go, and Mom and Dad should look through them each night for important paperwork, homework and school communication forms.
Lisa Sacco, a psychologist with Orenstein Solutions in Cary and a mother of two, has discovered placing separate "To" and "From" folders in her children's backpacks is tremendously helpful, as is packing lunches and laying out clothes the night before.
"The more that can be done the night before, the better," says Sacco. "Is laundry clean? Don't worry about what kids are wearing, as long as it's clean. Don't worry about clothing battles."
Beyond the first few days of school, it's also a good idea to mark important dates on your calendar, such as back-to-school nights, parent-teacher conferences and school festivals. Harold Dixon, president of the Mecklenburg County PTA Council, recommends parents take note of important school meetings throughout the year and work these dates into their schedule, so there are no surprises down the road.
Communicate With Teachers
Parents who stay in touch with teachers show their children that education is important. In today's world of emails, texts and smartphones, figuring out how often to communicate with the school can be more than a little confusing.
"Be engaged without hovering," cautioning parents to be "appropriately involved" instead of a constant annoying presence," says Sacco.
"When the kids were in kindergarten, I would be Room Mom, and I stayed in touch with the teacher face-to-face," says Wood. "Now that my kids are older, I do like the emails, but I still go in for face-to-face conferences and still try to volunteer to get to know the teachers."
Peggy Otey, head of the lower school at Charlotte Country Day School, encourages parents to communicate openly with teachers. If a child has had a difficult morning, the parent may call or email the teacher and let him or her know.
"The more information you can give a teacher, the better he or she can help your child. Most teachers check email before the day starts and after school, so it might not be feasible to expect responses during the day when teachers are working the classroom," adds Otey.
PTA guru Dixon advises, "Know where your child is academically and stay on top of grades." He recommends parents — and that includes fathers — find ways to periodically visit the classroom. "Every now and then, teachers need to see your face, even if it is just for five minutes."
Get Involved
Contrary to popular belief, stay-at-home parents aren't the only ones who can serve on school committees and organizations. School clean-up days, fall festivals and other Saturday events are perfect for families to be on the school campus together.
Dixon first got involved in the PTA while working full time, when his daughter first started school. He's still involved, even though she is entering her senior year of high school.
"It feels so good for a child to see a parent get involved," says Otey, who recommends parents contact a school's parent-teacher organization for volunteer opportunities. "I think all schools are more sensitive to the number of working families."
Moms and Dads, who are masters in making multimedia presentations or painting scenery, can help school personnel after hours prepare for special performances and celebrations.
If you don't have a particular skill, don't worry. Send a quick email to your children's teachers asking if you can help prepare materials for the classroom from your home during the evening. Many teachers have items that need to be cut or laminated, and extra hands are always welcome.
Keep Learning
School isn't just for children, either. Administrators understand that keeping up with relevant and timely parenting and educational topics is more important for parents than ever before. Because of this, many schools now offer free workshops, so Moms and Dads can say abreast of how best to help their children succeed.
Charlotte-Mecklenburg Schools began offering classes throughout the region three years ago through Parent University. Open to all families — whether kids attend public or private school — Parent University sponsors workshops at churches, community centers and schools. In addition to heading the PTA council, Dixon works as a Family and Community Services Specialist with the program.
Setting your children up for success at school begins long before the first school bell rings. Rest assured they appreciate — and learn from — your active participation in their education and other outside interests.
Renee Roberson is a mom and freelance writer in Huntersville.