Go Wild: 6 Places to Have an Animal-Themed Birthday Party in Charlotte
Birthday venues in and around Charlotte for your animal lover.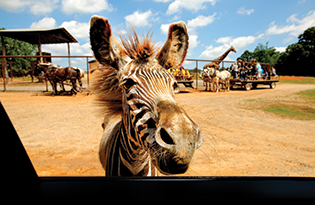 AGES 2-4
Taking a walk on the tame side with a flock of little ones? Dan Nicholas Park in Salisbury has it all: an old-fashioned barnyard with pigs, Billy goats and donkeys that they can pet; a nature center with snakes, lizards and alligators (not to pet!); and the brand new Cheerwine Aquarium featuring many exotic types of fish. If you'd rather stick closer to home and just happen to have a sandbox, do a dinosaur-themed party. Fill up plastic eggs with dinosaur toys or candy and bury them in the sand. Provide shovels and buckets for the kids and put them to work "excavating" their dinosaur eggs. Pair with a dinosaur-themed cake and decorations.
AGES 5-10
Plan on a wild animal safari at the Lazy 5 Ranch. Ever seen a Scimitar Horned Oryx up close? How about a giraffe, rhino or a kangaroo? The Mooresville-based park offers kids a glimpse of more than 750 different animals from all over the world. At Zootastic Park, enjoy a tour through a wild western town, animal barns and exotic animal facilities. Party extras include safari balloons, a zoo trainer animal talk and pony rides. How about an animal party right at your own home? Party Pets brings an indoor and outdoor petting zoo to you with rabbits, hedgehogs, chinchillas, reptiles, tortoises and more.
AGES 11+
A birthday is the perfect occasion to celebrate the release of a rehabilitated bird of prey at the Carolina Raptor Center. You will have your own bird —maybe a red-tailed hawk — that will be released by a member of the Release-a-Raptor team, and then receive a certificate and information about your bird. If horses are more your style, visit the Latta Equestrian Center. Kids ages 12 and older can select the Trail Ride Party package. Extras include horse-drawn carriage rides, face painting, heated grill and horse cupcake cake in flavors such as strawberry, chocolate, yellow and marble.