Girls on the Run Empowers and Transforms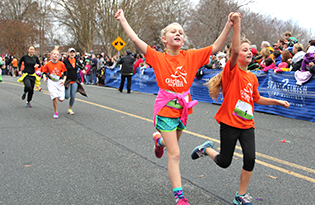 What do girls, smiles and running have in common? Girls on the Run. The Charlotte-based program, founded by the unstoppable Molly Barker, is more than 18 years old, reaching 130,000+ girls, grades 3-8, in 200 cities with a message of self-respect and joy. 
Girls on the Run is not just a running program. It is transformational. 
Using the platform of physical activity to empower, it nurtures physical, emotional and spiritual health and teaches character to young girls with a culminating 5K to celebrate the power of accomplishment. Each year in May, hundreds of Girls on the Run participants line up gleefully at the starting line — all smiles, colored beads, painted hair and exuberant energy — to embark on their 5k journey. Whether they walk or run, or both, each girl crosses the finish line with confidence and hopefully, a lifetime appreciation for health and fitness.
Girls on the Run Charlotte serves Cabarrus and Mecklenburg counties. Small teams of 8-20 girls meet twice weekly at schools, Ys and various locations to learn life skills through 24 interactive lessons and running games. Program registration for the 2014 Fall season begins August 2014. The Girls on the Run 5K is open to all runners on May 3, 2014. Find out more at gotrcharlotte.org.
3 Reasons to Run with Your Daughter 
by Molly Barker, Founder of Girls on the Run

1. Running empowers. It provides her with the experience of body ownership. 
2. Running is time together. It can satisfy that yearning you've both had to connect, love, share and just be together.
3. Running is quiet. It provides an amazing opportunity to intentionally NOT talk. 
Read More: 


View all Family Wellness articles and find out more about the Fit Family Challenge