Gingered Cranberry Raspberry Relish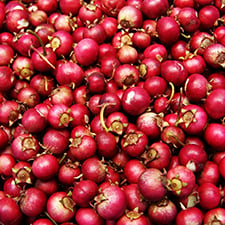 Traditional doesn't have to mean boring. When you're trying to come up with side dish ideas for this year's Holiday menu just think a little outside the box; take a traditional dish and make it contemporary and chic…like adding rapberries, walnuts and ginger to your holiday cranberry relish.
Made from market fresh locally sourced ingredients this simple twist on a holiday favorite is best served cold. It also makes your after-holiday sandwich absolutely irresistible when used instad of mayonnaise.
Ingredients
• 12 oz Fresh Cranberrries
• 3 cups Fresh or frozen (not thawed) raspberries
• 1/3 cup Granulated Sugar
• 1/2 cup Crystalized ginger, minced
1/2 cup Walnuts, finely chopped
Preparation
Pulse cranberries in a food processor until coarsely chopped.
Pulse walnuts in a food processor until coursley chopped.
Transfer both to a medium bowl and stir in sugar and crystallized ginger.
Stir in raspberries— do it gently but it's ok if you crush some of them.
Cover and refrigerate for at least 2 hours to allow the flavors combine.