Ginger Pumpkin Seed Bread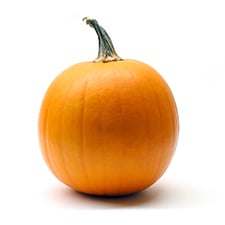 Ingredients:
2 cups shredded raw pumpkin (or any other winter squash)
3 local or organic eggs
1 3/4 cups organic sugar
1 cup plain Greek yogurt (not the low- or fat-free kind)
2 cups all-purpose flour
1/4 teaspoon baking powder
2 teaspoons baking soda
2 teaspoons cinnamon
1 teaspoon salt
2 teaspoons vanilla
2 (1/4-inch) slices fresh minced gingerroot
1 cup toasted pumpkin seeds or pepitas
1 cup semi-sweet or dark chocolate chips
Instructions:
1. Shred the shredded pumpkin and reserve.
2. Beat the eggs with the sugar, and yogurt until smooth.
3. Stir in the flour, baking powder, baking soda, cinnamon, salt, minced ginger, vanilla, pumpkin seeds and chocolate chips, mixing just until all ingredients are combined.
4. Add the shredded pumpkin. Mix well.
5. Pour into two greased and floured and then parchment paper lined (8-1/2-by-4-1/2-inch) loaf pans. Bake for 55 to 60 minutes at 350 degrees, or until a wooden pick or cake tester inserted in center comes out clean.
6. Allow the bread to cool in the pans completely before turning it out to slice and serve.
Heidi Billotto is a culinary expert who hosts cooking classes throughout Charlotte. Find more at heidibillottofood.comFood for Thought