Gifts From Your Kitchen That Everyone Will Enjoy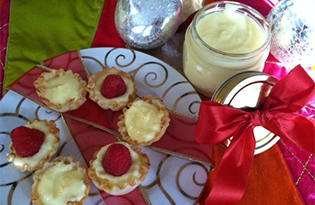 It's the time of year when what I call "holiday hubbub" starts to set it. While I love to shop as much as the next person, there comes a point where the pressure can be overwhelming if you let it get to you.
The holiday season isn't really fun unless you step back, regroup and allow yourself to enjoy it and your family time together – this is the stuff family traditions are made of.
It doesn't have to be a season of panicked runs to the mall.
This year, teach your children to enjoy the pleasures of gift giving. Instead of rushing out and buying something because you have to, why not give from your heart and from your kitchen to friends and family.
You know how wonderful it is to be the recipient of tasty homemade baked goodies and treats, so this year, why not extend that same pleasure to your friends, family, teachers, neighbors and anyone else on your gift-giving list.
Start with one trip out to buy decorative bottles and jars and a few things from the grocery store, and you are halfway there. Most baked goodies and homemade jams and jellies can be done in less than an hour. Do a few every other day and see how much fun it can be as you enjoy the spirit of the holidays somewhere other than waiting in the gift wrap line at the mall.
We'll begin with a great seasonal beverage – my favorite recipe for apple cider. Packaging here is easy as this is best presented in the big jugs it comes in from the grocery store.
If you decide to reuse bottles or jars for your gift-giving containers, remove the sticky residue left from labels with a wonderful product called Goo Gone, available at any local hardware store or craft shop. Wash the containers well with hot soapy water, rinse and allow them to air dry completely. Better still, run jars and lids through a cycle in the dishwasher.
Once labels are removed and jars and bottles are clean and dry, you or your children can decorate the packaging with glass paints or permanent Sharpie markers found in craft stores and hobby shops. Finish them off with big plaid ribbons wrapped around the necks of the jars, then tie in a few jingle bells, some wired beading or garland, or a sprig of artificial mistletoe. Take care not to use real mistletoe as a garnish in gifts of food as the plant is poisonous and a mishap would surely ruin the holidays for everyone.
Baskets of fresh baked muffins are always a nice gift, particularly if the recipient has out-of-town guests visiting for the holiday. Tuck in a couple of jars of homemade lemon curd or easy banana jam, and your basket of muffins becomes a one-of-a kind treat.
Adorned wreaths and small potted trees make great gifts as well. Bake your favorite breads into a wreath shape, tie a big bow on the finished product and you are good to go. You can buy small real or artificial wreaths at any Christmas tree lot and small potted trees are at almost every local nursery. If you are giving a gift to the family pet, tie dog biscuits or cat treats in and among the boughs and branches.
You also can tie in individually wrapped cookies or chocolates for wreaths gifted to your human friends. Wrap each of the goodies in a sheet of clear or colored plastic wrap, gathering the wrap at one side of the cookie or candy and tying it tight with brightly colored or metallic curling ribbon. Once the packaging is secure, tie the end of the ribbon onto one of the boughs of the wreath.
Make a culinary wreath for the cooks on your list by tying in small kitchen gadgets such as measuring spoons or rubber spatulas along with branches of fresh herbs from your herb garden. The herbs will dry and may be used in the kitchen for months to come.
Great Homemade Gifts: 
> Heidi's Holiday Apple Cider
> Homemade Lemon Curd
> Microwave Banana Jam