Getting Out and About With Children With Special Needs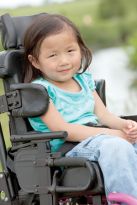 The warm weather beckons families to the park, the zoo and, soon, the swimming pool. But when you are a parent of a child with special needs, getting out of the house can seem like more  trouble than fun. Even a quick trip to the grocery store or the playground can seem overwhelming.
But no one can stay home all day, every day, and experts encourage families with children who have special needs to live a life as normal as possible. As the parent of a child with autism and epilepsy, I have experienced the frustration and exhaustion of running errands and planning outings to open up the world to my son. Here are a few tips I've found helpful in teaching a child with special needs to navigate the world.
1. Plan ahead. No words of advice can be more important. Visualize where you are going and what you will encounter with your child. Ask yourself, "What challenges will we face?" and "What obstacles can we avoid?" A little research goes a long way. Look on Web sites or call ahead to places to learn about off-peak hours and restaurant menu items, or to see pictures that will help you plan.
If you're visiting friends or relatives, talk with them ahead of time to enlist their help in making the visit successful.
2. Prepare for anything and everything. Sometimes you will need to run out on the spur of the moment, so it's important to always have a bag or backpack ready to go with all sorts of things your child might need. The bag might contain a snack, a change of clothes, emergency medications (for children with allergies, asthma or some forms of epilepsy) and a couple of toys to help pass the time. If your child uses specialized equipment, communication tools, or calming devices at home or at school, make sure these also are handy. The best bet is to make a checklist of things you should always have when you leave the house and keep it by the door.
3. Set reasonable expectations. Know your child's limits. If you plan to take your child on some errands, keep your agenda to the amount of time your child can handle. Let your child know what places you will be going and stick to the plan. Consider adding something he or she enjoys doing at the end.
4. Find places that are appealing. Consider your child's skills and interests … and indulge them. When my son was young, a visit to a construction site to watch a bulldozer or a trip to Lowe's to look at ceiling fans was a fun outing. We added these to our weekly schedule along with places typical kids enjoy.
"We liked to go to places that had defined structure (walls or fences), like McDonald's indoor playgrounds, Discovery Place's room for young children and my in-laws' swimming pool," says Elizabeth Phillippi, the mother of an 18-year-old with autism.
Jeni Cooper says nearly every place she went when her daughter was younger was an issue, but she discovered a few havens, such as an uncrowded coffee shop and the swimming pool, because the water calmed her.
5. Be patient and persevere. If you find yourself getting frustrated, take a deep breath before you lose control. Keep in mind that you may have to change plans if you or your child has had enough. Remember, you always can try again, as sometimes revisiting a place turns out better the second time around.
Nancy Nestor adds, "Try not to worry too much about other people. If your child has a meltdown, no one will remember it in 20 years — even you!"
Getting out and about with a child with special needs can be a safe, productive and rewarding experience. So grab your bag and have fun.
Where to Go
Hear a story 
Sensory Storytimes at Charlotte Mecklenburg libraries. Various days, times and locations. 
cmlibrary.org
See a movie
Sensory Friendly Films at AMC Concord Mills (in partnership with the Autism Society of America).The lights are up, the sound is turned down and audience members can get up to dance, walk or sing. Saturdays, 10 a.m. 
amcentertainment.com/SFF
Bounce for free
Monkey Joe's in Lake Norman, Matthews, Pineville and University City welcomes kids with special needs and their siblings. Fourth Wednesday of each month, 6:15-7:15 p.m.
monkeyjoes.com
Play outside
Mecklenburg County Park and Recreation and the City of Rock Hill Parks and Recreation offer programs for kids and teens.