Getting Organized
Turning scraps into files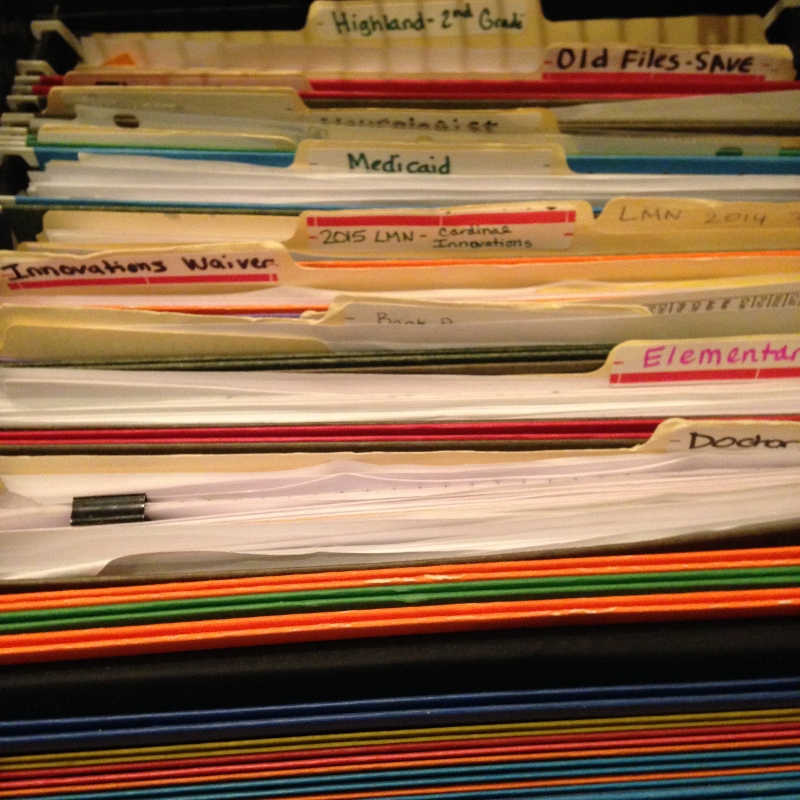 Over the last twelve years, we have met and talked with so many doctors, therapists, teachers, parents, insurance companies, agencies, organizations and respite workers that I could not keep them straight without the use of a fairly good organizational system. Below I outline the system that has worked well for me. Hopefully you may take some of my ideas and develop one that works for you.
Filing Crate – Day-to-Day Storage
Use a crate that is designated solely for your child's information. This portable crate has come in handy when I have taken it with me to meetings. I have done this on several occasions.
Make files for insurance documents, school information, IEP documents, doctor evaluations, medical records, each of the private therapies your child receives, Medicaid, Social Security, equipment suppliers, receipts for taxes – anything that will help you find something quickly and easily.
Keep the files in alphabetical order or in some way that makes sense to you.
Place the crate in an easily accessible area. You may need to file weekly, depending on how much information comes in. If it is not an easy process, you will not do it and then papers will get misplaced.
Notebooks – Day-to-Day Storage
Purchase a composite notebook. Place the current date, your name and contact information inside, although this notebook should never leave your home.
Tape all business cards directly into this notebook. I've tried stapling and then the notebook gets too bulky. Contact information will be at your fingertips for fax numbers, email addresses, mailing addresses and other vital information. This information may be transferred to your phone also. Consider this your "backup" in case your phone is lost.
Write down "To Do" lists in this book with a date at the top. Helps you remember what you set out to do. Things that are important tend to get completed and things that aren't as important, go by the wayside.
Keep any notes on schools, doctors, schedules, camps, meetings, people, etc.
This notebook could last a few years. When you are finished, get another one in a different color and label it #2. The first will still be a reference.
If you write a note on a Post-It or small piece of paper, tape it directly into the book.
I don't worry about keeping it neat, just keeping the info.
Flipping through the notebook to look for a contact, conversation or other information takes a lot less time than fishing through your purse, dresser drawer or desk for the small note you may have left somewhere, or God forbid, thrown away.
Storage Files – Longer Term Storage
Files over one-year old that are not needed, I put in a plastic storage box with a cover and place in a dry location, i.e. garage, basement or attic. I keep some of my son's older medical records in the Filing Crate because I am often asked for them.
​Computer and Phone Files
Doctor and therapist's phone numbers are kept in my contacts on my cell phone. In case I am late, I can quickly call to give them a heads up.
I try to send everything by email so I have a written confirmation of what everyone has said. I keep ALL emails. I NEVER delete an email that is about Ben's school, doctors or therapists. I never know when it may be useful in the future.
Paper Rules to Live By (or Learn From My Mistakes):
Don't throw anything away. You may need it later. Keep it in the Storage Files.
Always write notes when you talk with someone on the telephone – their name, date you called, next action step and who is responsible for that action.
There are certain documents you may need to give often. I keep a file called "Extra Copies" so that I do not have to find that document each time, copy it, put the original back, etc. I make a few copies of it for giving out to those who request it. Immunizations, medical history, doctor's evaluation, description of my son's condition and insurance card are some of those items.
Assume you will not remember anything about a conversation – write it all down in the notebook.
Take multiple business cards for referrals and personal use. You may lose one card, but harder to lose three!
Date everything.
Digital Files
If you are able to scan, photograph and then organize all your papers on a computer and in the cloud, that can save a lot of space. It will take time to develop a system, but it may save you time in the end when you are trying to find something. And we have all heard it, but backup, backup and backup again.
Now, go get organized!
Attention Required
Here are two articles about the new ABLE accounts that will soon be made
available to people with disabilities:
Autism Society of North Carolina and North Carolina Health News.
See more resources for families with children with special needs in the Special Needs Directory.