Get Your Kid a Mentor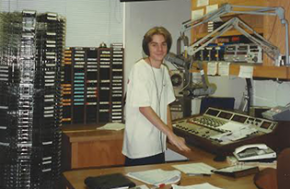 Every child has gifts in different areas. It may be an intuitive knack for engineering and math, or abilities in music, art or athletics. As a child, I loved to read, write and perform. I've wanted to be the host of "The Price is Right" since I was a toddler, but as I got into late elementary and early middle school I became more interested in news. I watched several local TV newscasts each day, and was probably the only 9-year-old viewing "Primetime Live" with Sam Donaldson and Diane Sawyer.
As a fifth grader I wrote a letter to Tom Milbourn, my favorite news anchor of the dozens I watched. I asked him to write me back and give me some advice on how I could be in the news business one day. A few days later, Mr. Milbourn called me and said, "If you want to be a newsman, you've got to come to the station." So, a few weeks later I made the trip to Green Bay, Wisconsin to shadow him. It was that experience that was the foundation for everything that happened thereafter.
One of my middle school teachers, Mrs. Kluge, suggested that I gather some other kids interested in TV and start a weekly 30-minute newscast at school. She taught us how to write for news and rewrite news stories from other sources like our local newspaper. We called it "Video News." That led me to start volunteering at City 6, our local cable access channel, where station manager Steve Fenske taught my friends and me everything about TV production. We moved our school-produced show to the TV station where we went from prerecorded news to a live broadcast on Thursday nights called "Video News Live."
Those broadcasts led to my first professional broadcasting job as a weekend news anchor on a local radio station when I was a high school sophomore. The station's news director Jeff Thelen and the program director Justin Fox saw the cable access show and offered me a (paying) part-time job. It sent me on the career path I've been on ever since. Along the way, I worked in radio as a personality, program director and executive producer before I "came home" to television about 10 years ago at WCCB.
What's all that mean to you? If it wasn't for the five people I mentioned above (and many others), I may not be enjoying the career that I am today. Finding a mentor to nurture a child's talents and interests is so important, and can lead to future career success and happiness. These mentors were willing to teach me and give me opportunities at a very young age. They also taught me that a career isn't about how much money you make. It's why I enjoy helping young people who want a career in broadcasting.
Do you know of a friend, relative, church member, teacher or coach who could mentor your teen? Could you do the same for someone else's kid in your career field? You'll be providing knowledge and perspective to a child that could set them up for a successful career and life.
Derek James is host of WCCB News Rising and lives with his wife and two sons, ages 4 and 6.