Get to Know Page Crawford of 'Good Day Charlotte'
Get to know the morning host of 'Good Day Charlotte' on Fox 46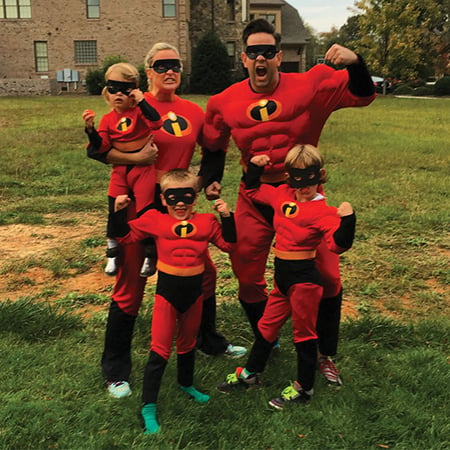 Page Crawford is an anchor and host of "Good Day Charlotte" on Fox 46. She and her husband Jake Fehling are also parents to Crawford, age 7; Calloway, age 6; and June, age 3.
---
How long have you lived in Charlotte, and where did you grow up?
I grew up in Falls Church, Virginia, right outside of Washington, D.C. We moved to Charlotte from Raleigh about two years ago, and we currently live in Target, south Charlotte campus … errr … Ballantyne.
Tell us about your job. What do you like most about it? What are the challenges?
My alarm clock goes off every weekday at 1:57 a.m. I know, brutal. Silver lining? It's all a basket of peaches from there. I host a morning show, which means I basically get paid to share news, discuss gossip and think of 400 different ways to say, "And now with a look at your accu-weather forecast … here's Nick Kosir." Spoiler alert: There are only like four ways to say that. Other than that minor challenge, and the aforementioned inhumane wake-up time, I can't complain. But I do anyway. I mean come on … 2 a.m. is really early!
What's the hardest part of juggling family life and work life?
Staying awake. See above regarding wake-up time.
Best advice ever received?
It's a toss-up between "create your own normal," and "take time to really connect with your spouse everyday." Both of those pieces of advice were literally written down for me at my wedding shower. Jake and I quote them to each other all the time. Sometimes we even follow them.
What is your favorite thing about raising a family in Charlotte?
We live on the same street as my brother and his wife and kids, and my sister-in-law's sister and her kids. You got all that? We are five "adults" and seven cousins between the ages of 10 and 3. It's so loud. Sometimes we put all the cousins into "the octagon" (also know as the netted trampoline) and have them jump for their lives. First one to cry loses. It's hilarious, albeit a little Hunger Games-y of us.
Proudest parenting moment?
One time last week all three of my kids said "please" without being prompted, and agreed on a movie to watch with no tears or sibling-induced broken limbs. #blessed.
Lowest parenting moment?
Oh geez, how to choose. Those times my epidural wore off during childbirth sucked pretty bad. Also the charming bedtime chorus of stories, songs and snuggles that quickly turns into a barrage of one more cup of water, one more trip to the potty, and "Cal won't stop talking and I can't fall asleeeeeep!" are enough to make me want to go back in time about eight years and re-think that whole "should we pull the goalie?" conversation.
What are three things you can't live without?
1. A nap.
2. My Friday night glass (or three) of chardonnay.
3. Oxi-Clean.
Favorite Instagram Account?
@jakefehling. Yes, he's my husband. Yes, this, therefore, is a bit of a gross answer. But he is a good follow. Promise.
Last book read?
"Everyone Worth Knowing" by Lauren Weisberger (author of "Devil Wears Prada"). It was between that and "War and Peace," but I was heading to the beach.
What inspires you?
​Pinterest. Isn't that the whole point?