Get to Know: Mercedes Cotchery
Mercedes Cotchery is a writer, speaker and wife of former NFL Carolina Panther Jerricho Cotchery. She's also the mom of five.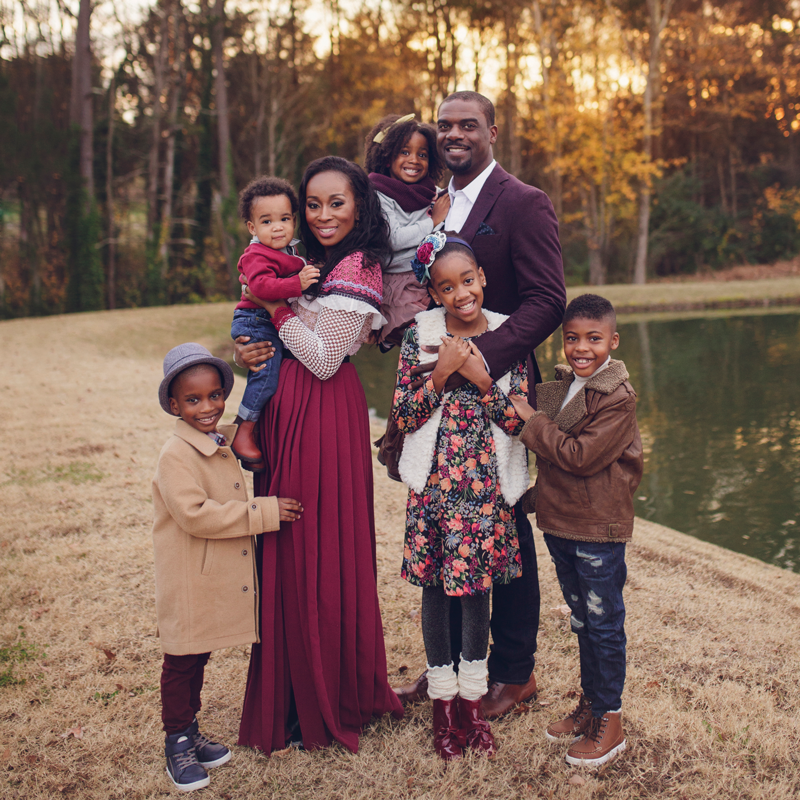 Mercedes Cotchery is a writer and speaker, and wife of former NFL Carolina Panther standout Jerricho Cotchery. She is a proud mother to five beautiful children ranging in age from 1 to 10 that are adopted and home-schooled. She serves as an advocate for promoting the importance of faith, education and growing together as a family and strives to help all mothers be PheMoms — Phenomenal Moms — on her blog, Mommy Moments, Meltdowns and Mercy.
Where in Charlotte do you live? Where did you grow up? We live about 20 miles north of Charlotte in Concord. We have lived in this area for two years.
Tell us about your job. What do you like most about it? What are the challenges? I am a budding writer and speaker, with my thoughts headquartered on my blog Mommy Moments, Meltdowns and Mercy. I home-school my five children, and teach grammar and writing to other middle school students once per week. Writing is absolutely wonderful. I love words. The gift of being able to provoke emotions through prose is a gift and one that we should not take lightly. My inspiration comes in many forms. Once my creative juices begin to flow, the most testing aspect is maintaining a consistent voice.
Teaching is one of the most difficult jobs I have ever done because it requires a huge amount of patience and a great trust in God. It is also the most rewarding. I love being with children and shepherding them through life.
What's the hardest part of juggling family life and work life? The lines of family life and work life are quite blurred for me, perhaps that is the most difficult part. Am I a mommy? Am I a teacher? Is this a private moment? Should this moment become a blog? My solution: I travel the road with the least amount of turbulence.
What is your favorite thing about raising a family in Charlotte? I love Charlotte's pace of living. Life here slows down just enough and I can be busy just living.
Best advice ever received: Two things: A baby has never cried himself to death, and to be successful in this life, one must know what they do not know.
Proudest parenting moment: Children are busy, fast, and rough and tumble. Whenever life slows down enough, and God gives me a glimpse into the people they are when life is good, it melts my heart every time. I adore the times when they are being endearing to one another. When Nicholas stops everything to assist Journey with her backpack, or when Jacey goes to the store and remembers to bring a gift back for each of her siblings. Or when one naughty boy has wronged the other and the victim is moved to tears as the culprit is admonished. These are the moments I would never want to miss. These are the times when it is all worth it.
Lowest parenting moment: When you are a parent there isn't just one low moment of parenting. There are several and for good reason. I'd prefer not to call these moments low parenting moments. Instead, these are opportunities for me to grow closer to God and become a better Double P (a better parent and person). As a parent, I have gained more patience while home-schooling and as a person, I have gained more humility. I am not perfect, but I have improved.
Name three things you can't live without: Devotional time. Lip gloss. A good brow pencil.
Favorite Instagram account: I must shamelessly plug my own account: @mercedescotchery.
Last book read: I read several books at once. The last book that I completed was "Teaching From Rest: A Homeschooler's Guide to Unshakeable Peace."
What inspires you? Philosophy and nature