Get to Know: Maureen Anders
Maureen Anders is a co-owner of Anders Ruff Design Co. and AR Workshop DIY studios.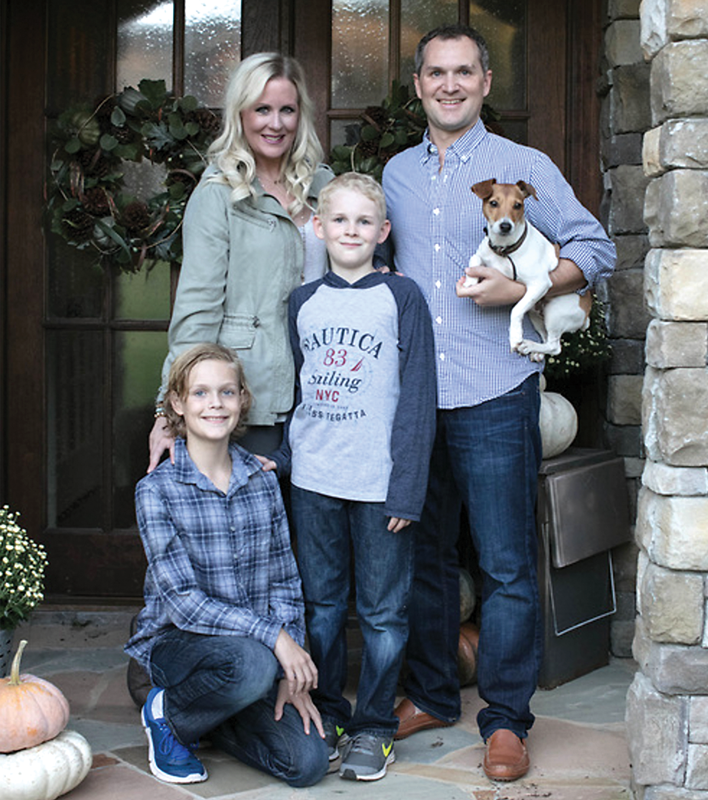 Maureen Anders is the co-owner of Anders Ruff Design Co. and AR Workshop DIY studios. She and her husband J (short for Jeffrey) Anders have two sons: Jeffrey, 12, and Pierson, 9. She is also the proud owner of two Jack Russell terriers, Cotton and Coconut. We caught up with Anders to learn more about her life as an entrepreneur, franchise owner and mom.
---
Where do you live in Charlotte and where did you grow up?
We live in Fort Mill, South Carolina, and have lived in the Charlotte area since 2006. We moved away for about a year to Milwaukee, but came back after less than 18 months. We love it here.
Tell us about your job. What do you like most about it? What are the challenges?
Anders Ruff was born because of creativity and a passion for beautiful things. What started in 2010 as an online etsy shop quickly morphed into our own e-commerce website and blog. Co-founder Adria Ruff met at a preschool open house. We learned we had so much in common and quickly embarked on a business together. After six years running the online shop and getting really awesome projects, we expanded to create AR Workshop, a DIY boutique workshop where women, men and kids can create home decor from scratch. After launching our first AR Workshop in Pineville in June 2016, we have quickly grown to over 69 franchised and licensed locations.
My favorite part of the job is creating the project concepts and branding the company. As a type A, detail-oriented person, I am a perfectionist and won't stop until I have the design absolutely perfect. Taking that to the next level is my joy for teaching others. I love helping a new franchise owner learn all aspects of the business to grow and incorporate their own AR Workshop.
The challenge is that I love what I do so much that it's hard to stop working. I don't feel like my job is a job. It's a hobby and passion turned into a mission — a true labor of love.
What's the hardest part of juggling family life and work life?
Being the CEO of a quickly growing franchise startup is not easy. There are really long hours working to build the business, support franchisees, design new concepts, stay relevant and keep up with regular day-to-day operations. I want to do it all, but have learned to delegate. Being a franchisor, there is a lot more travel. Luckily, I have a supportive husband who works from home so he can help with the kids when I'm not able to be home.
What is your favorite thing about raising a family in Charlotte?
My family loves the lush, beautiful neighborhoods, unique restaurants, greenways and parks, and the young families. Living in such close proximity to both the mountains and the beach lends itself to us easily being able to travel often.
Best advice ever received: Don't worry about when other companies (or people) copy you — be worried about the day that no one is copying you.
Proudest parenting moment: When my son proactively told me the truth about doing something bad. He even referenced the fact that I told him he would get in less trouble if he is honest with me about doing something wrong versus lying to me. I always try to encourage honesty from my kids.
Lowest parenting moment: When my younger son's grades showed and I noticed a C. We approached him and he had been hiding his homework from us because he was afraid he would get in trouble. I felt like such a failure for not noticing that he hadn't been bringing as much work home, and I felt like I wasn't as involved in his studying that year because I had been so busy. That prompted us to change how we are doing things.
Name three things you can't live without: Jack Russell terriers, La Croix Sparkling Water and my iMac with Adobe Illustrator.
Favorite Instagram account: @xopinkpistachio
Last book read: Dr. Seuss. I don't have time to read anymore ­— just to my kids.
What inspires you?
I'm so inspired by vintage graphic design, product packaging, fashion, antique shopping, and colors from harvests and nature.
---
Michele Huggins is the editor of Charlotte Parent magazine.
See also: Anders Ruff Workshop Is Opening a Myers Park Location.