Get to Know: Matt Chapman
A glimpse at the life of dad and spine surgeon Matt Chapman.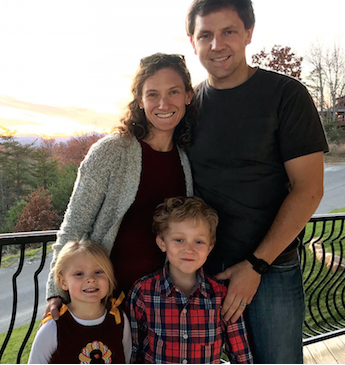 Where in Charlotte do you live? Where did you grow up? We live in Barclay Downs. I grew up in Charlotte, specifically in the Cotswold area. My wife grew up in Raleigh, North Carolina.
Tell us about your job. What do you like most about it? What are the challenges? I am a spine surgeon, practicing at the OrthoCarolina Spine Center on Randolph Road. My practice encompasses patients of all ages, including pediatric and adult. The majority of my practice involves treating patients with back, neck, arm or leg pain, predominantly treating them non-operatively. I specialize in treating patients with scoliosis or other spine conditions. I also take care of patients with fractures or other pain following accidents.
I most enjoy the variety of it. Whether an adult with a degenerative spine condition, or a child with scoliosis, spine conditions significantly impact each individual patient in a multitude of ways. Treating each patient with the variety of options that exist to improve their quality of life is very rewarding. Seeing patients improve and regain their life is what I like the most about it.
One of the biggest challenges is treating adolescent or younger patients whose conditions respond better to surgery than nonsurgical management. It is a daunting, scary decision to make for patients and their parents. As a father, I know that it would be a very difficult decision to make, but we work to make it less overwhelming and achieve the best outcome.
What's the hardest part of juggling family life and work life? The hours that go in to being a spine surgeon — or any medical provider — can make juggling family and work life hard. Whether the front desk person, the nurses in clinic, the hospitals, radiology technicians, mid-level providers or any other members of the team, there frequently are patient needs that pull us away from our families. For those of us with supportive and understanding families, the juggling can be a little easier as our families understand that we are at work late, or going in early, to take care of the health of our patients. Regardless, it is still hard to juggle the work-family balance.
What is your favorite thing about raising a family in Charlotte? Charlotte has been home for me for a long time. One of my favorite things about raising my family here is getting to share some of the things that I grew up doing, such as the Charlotte Nature Museum (now Discovery Place Nature) and Discovery Place and others with my kids and wife.
Best advice ever received: Take care of your patients the way you want your wife, your kids, your brothers, your parents or yourself to be treated.
Proudest parenting moment: Seeing my kids recognize when one of their friends is feeling left out of an activity and consciously trying to include them in whatever activity they are doing.
Lowest parenting moment: When our kids are discussing who they want to put them to bed at the end of the day, and I'm the odd man out.
What are three things you can't live without?
1. My family.
2. Trips to the beach.
3. Coffee.
What is your favorite Instagram account? I'm a little old school and don't have Instagram.
Last books read? "Pete the Cat" and "Pinkalicious."
What inspires you? My family inspires me to be a better dad, better husband, better friend and better physician. Whether it is their innocent comments about me taking care of a friend from school as a patient, my wife Jenny's compassion and understanding of my work, Trey asking to throw a baseball in the yard, Ellie Rose asking to come to her room to do Barbie's hair or seeing how excited the kids are when I pick them up from school, they constantly push and inspire me to be more involved, more committed and more well-rounded.