Get to Know: Mandy Drakeford
Drakeford is the senior vice president of development at The Levine Museum of the New South.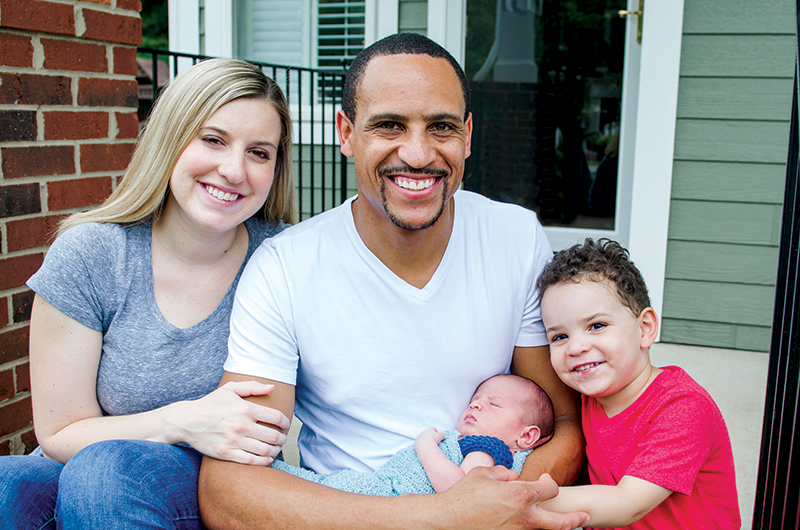 Mandy Drakeford is the senior vice president of development at The Levine Museum of the New South. She is Mom to Winston, 3, and Wyatt, 10 months, and lives with her husband, Antione Drakeford, in Huntersville.
---
Where in Charlotte do you live? Where did you grow up? We live in Huntersville and have lived here for five years. I grew up in a small town in northwest Ohio called Napoleon and went to school at the University of Cincinnati.
Tell us about your job. What do you like most about it? What are the challenges? I'm passionate about serving my community through the work I do at Levine Museum. I'm grateful for the opportunity to spend my time working for the one place that makes sense of the profound changes sweeping Charlotte. Levine Museum provides the historical context for contemporary issues and prompts dialogue that fosters understanding and empathy. I have the unique opportunity to oversee the museum's fundraising, marketing and communications efforts. I love building relationships with members, donors, corporate partners and community members. The biggest challenge in my role is finding a cut-off point each day. It's hard for me to stop what I'm doing and go home when it's time to pick up the kiddos.
What's the hardest part of juggling family life and work life? Time. No matter how much planning I try to do, I feel like I never have enough time at home or at work.
What is your favorite thing about raising a family in Charlotte? It's easy to find fun, inexpensive activities for the four of us to enjoy. Charlotte also is a relatively short drive to Ohio to see our families.
Best advice ever received: After going back to work with my first son, I struggled to find a balance and I always put myself last. A friend reminded me that in order to take care of my family, I had to take care of myself. For me, this means things like making sure I'm getting enough water, eating three meals a day and sleeping six to seven hours a night. It's amazing how much better I feel after making a few minor tweaks.
Proudest parenting moment: My proudest parenting moment was when my son Winston met his baby brother, Wyatt. Winston immediately wanted to hold the baby, and when Wyatt started to cry, he comforted him and sang to him. It was both the proudest moment and sweetest moment of my life.
Lowest parenting moment: While I was on maternity leave, Winston stayed home with me a few days a week. One day, he woke up from a nap and started calling for me. I rushed upstairs with the baby to check on him. I put the baby in his crib while I tended to Winston. As soon as I got to Winston's room, the baby started crying. I rushed back to the nursery. Meanwhile, I heard Winston walk down the hall and stairs. I put the baby back in his crib and rushed to make sure I had shut the baby gate. Alas, I had not, and he was standing in the middle of the stairs. When I called down to him, he lost his balance and tumbled down the stairs. I dashed to the bottom of the stairs and scooped him up. After making sure he was OK, I sat on the floor holding my toddler and baby while we all three cried.
What are three things you can't live without?
1. Harris Teeter's ExpressLane. It saves me so much time and money.
2. AmazonPrime. Also saves so much time.
3. Netflix. I'm not sure how we would've survived the baby's first year without "Moana" for my toddler.
What is your favorite Instagram account?
@PageFehlingFox46
Last book read? "The Queen of Hearts" by Kimmery Martin.
What inspires you? Moms. I don't know how we do it day in and day out, but I believe moms are the strongest people on this planet.