Get to Know: Lisa Palmer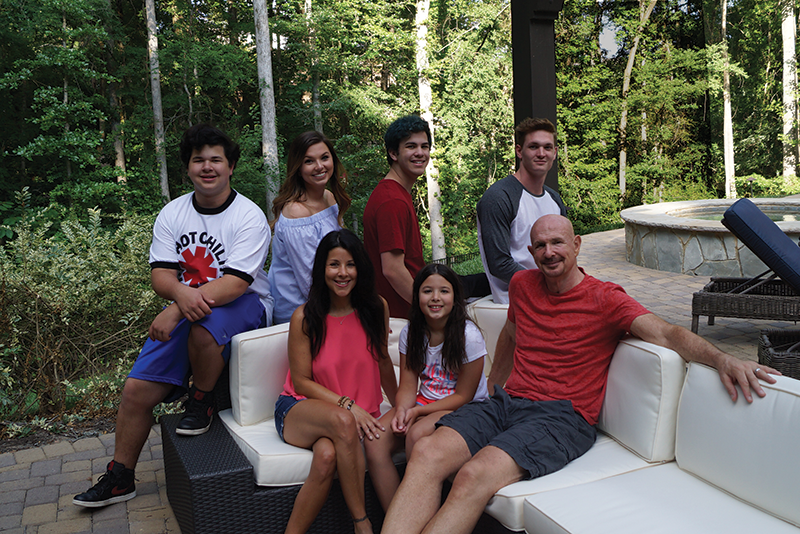 Lisa Palmer is the owner of CycleBar in midtown and Waverly. She and her husband Marc Palmer have five children: Bryce, 26; Jessie, 24; Jake and Nick; 16; and Brodie, 9.
---
How long have you lived in Charlotte and where did you grow up?
We live in Waxhaw. We moved to Charlotte five years ago from St. Louis, Missouri where I was born and raised.
Tell us about your job. What do you like most about it? What are the challenges?
I absolutely love my job. I have always been passionate about health and fitness, so the fact that I get to [work in health and fitness] on a daily basis is the best. CycleBar is such a fun atmosphere and there is always something exciting going on. We have happy-hour rides, mimosa-brunch rides and pop-up rides that we host at local breweries. The most challenging part of my job is juggling time between two studios and making sure I'm visible at both.
What's the hardest part of juggling family life and work life?
I've had to learn how to delegate. It took a minute because I was so used to doing everything myself, but I quickly learned that I am not superwoman and it's OK to ask for help. I have two amazing managers at both of my studios to help with work-life, and since I don't have extended family in Charlotte, I have great friends and older kids who help.
What is your favorite thing about raising a family in Charlotte?
I love that we are so close to the beach and mountains. Coming from the Midwest, we didn't have that, so it's great that on a last minute whim we can pack up the car, head out with the kids and be at either destination in a few hours.
Best advice ever received: It's not advice, but a saying my mother-in-law used all the time: "This too shall pass." There have been challenges opening two studios within nine months of each other, so I say this to myself when I'm feeling overwhelmed. Not only is it a great way to remember my mother-in-law, but also it reminds me that whatever I'm going through is temporary, and things will get better.
Proudest parenting moment: There are too many to list. I think anytime any of my kids accomplish something, whether it's a graduation, a bar mitzvah, getting a driver's license or simply getting a good grade, that makes me proud. To see them also proud of themselves makes my heart full.
Lowest parenting moment: One of my children recently was hospitalized, and it was by far the scariest moment I've ever experienced as a parent. You feel completely helpless and it's heartbreaking to see your child in pain. Fortunately, my husband and kids are amazing, and we all leaned on each other for support.
Name three things you can't live without:
1. Headbands, because I cannot have hair in my face when I workout.
2. A grande, nonfat chai latte from Starbucks because it gets me going in the morning.
3. My calendar on my phone. With two studios and three younger children, I have to stay organized.
And I have to add a fourth … champagne! The bubbles are necessary.
Name your favorite Instagram account: Anything food related. I'm a foodie at heart and love looking at pictures of food.
Last book read: "The Girl on the Train" by Paula Hawkins.
What inspires you?
I think the riders that come to CycleBar are my biggest inspiration. Some of them have such amazing stories as to why they have become loyal riders … maybe they've decided now is the time to get in shape so they are on a weight-loss journey, or they're going through a difficult time and CycleBar is their outlet. Whatever the reason, because they keep coming back, that inspires me to make CycleBar the fitness community that they need.