Get to Know: Krystle Sauls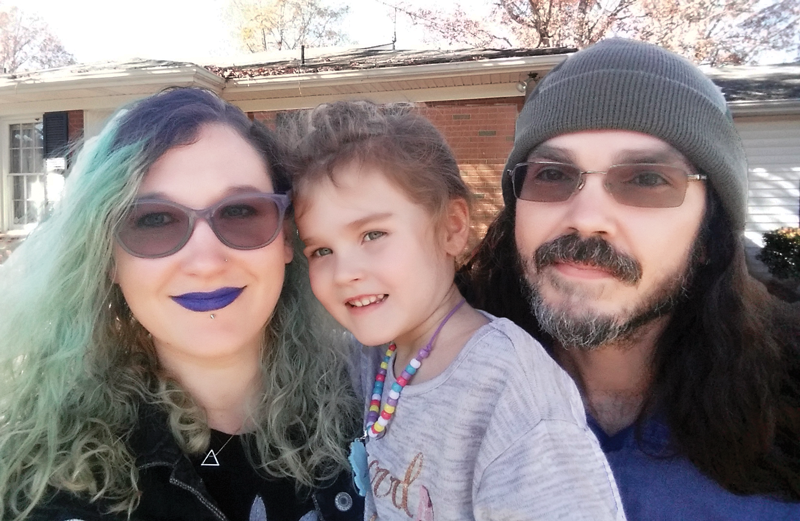 Krystle Sauls is the owner of Pachyderm Music Lab and the director of Girls Rock Charlotte. She and her husband, Jason Sauls, are also parents to 4-year-old Cadence Sauls.
Where do you live in Charlotte and where did you grow up?
We live in East Charlotte close to the old Eastland Mall site. I've been here for seven years and Jason as been here for over 10 years. We met in Hilton Head where I was making my living as a musician. I moved to Charlotte to start a band with Jason and the rest is history.
Tell us about your job. What do you like most about it? What are the challenges?
I am a very unconventional music teacher. I teach guitar, bass guitar and ukulele, and dabble in a lot of other instruments. Those skills come in handy when I teach my original BabyPUNK class where we use rock-band and kid instruments to create lullaby versions of songs by rock, punk and metal bands. I also started Lady Rockstars, an inspiring and empowering series of classes that puts women in bands and on stage. I also am the music director for a local nonprofit Girls Rock Charlotte that uses music to amplify the voices and confidence of girls and women.
I love the level of creativity I get to bring to work with me every day. It's never boring. The challenges for me are marketing the things I'm doing. It's a lot of work for one human.
What's the hardest part of juggling family life and work life?
There really isn't a line between the two. My daughter is with me at work all day. I think meal planning is my biggest struggle. I do really good for a while and have everything squared away. When I have events on days I usually plan or shop, we end up eating out until I get back into the swing of things. Eating out for us gets pretty boring too, because the only meat we eat is fish and there's not a lot of healthy fast-food options out there.
What is your favorite thing about raising a family in Charlotte?
There is so much to do. We can see live music, go to an art show, shop at any store you can imagine. There also are so many outdoor activities close by. It's the best of both worlds.
Best advice ever received: Don't do what everyone else is doing. Do what you like and attract people in your life that you want to be around.
Proudest parenting moment: My daughter on my husband's shoulders rocking her ear muffs at a Primus concert last summer. She was nodding her head, holding up the rock hand on one side and her My Little Pony doll up in the other singing along to "Too Many Puppies."
Lowest parenting moment: Cadence was a month early and my milk hadn't come in yet. I was constantly worrying that my breast-milk supply wasn't enough. It was a very stressful first few months. It felt like I was hooked up to a breast pump for a few months straight. My body finally caught up. Once she had some precious baby fat rolls, I breathed easier.
Name three things you can't live without:
Music and all the instruments.
Soft blankets. They keep getting softer over time. When I was a kid we just had scratchy afghans.
Funky-colored hair dye. I didn't always have green hair, but I look forward to being the crazy granny with green hair, tattoos and facial piercings.
Name your favorite Instagram account.
@littlelottestudio. I'm obsessed with this marbling thing she does. It's hypnotic.
Last book read: "Big Magic" by Elizabeth Gilbert.
What inspires you?
Children. It's awesome to hear ideas from kids and see how aware they are of each other and their place in the world. Kids just seem really wise. I love engaging in conversation with the Girls Rock youth. They are smart and capable, and inspire me to set the best example I possibly can. They are beacons of hope in a divided world.