Get to Know Kat Eckles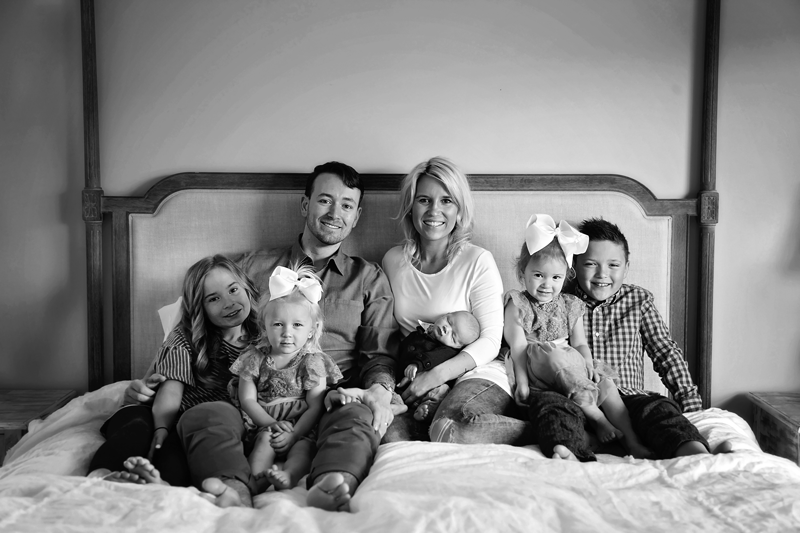 Kat Eckles, 31, co-owns Clean Juice with her husband Landon Eckles, 32. Together they have five children: Mckenna Eckles, 10; Kellan Eckles, 9; Kora Eckles, 4; Haven Eckles, 3; and Ellis Eckles who is 9 months old.
Where do you live in Charlotte and where did you grow up? We live in (and love) the Lake Norman area. We moved from outside Philadelphia in August of 2014.
Tell us about your job. What do you like most about it? What are the challenges? My husband and I founded and run Clean Juice, a certified organic juice bar franchise. My husband serves as the chief executive officer, and I serve as the chief visionary officer. My favorite thing about it is getting to work closely with my husband to innovate, lead and strategize. We have the most amazing team of people that make coming in to work every day seem like fun.
The dynamic of going from spouses to co-workers has been a learning process. Luckily, we both truly respect each other's strengths as they relate to what we can do for Clean Juice, so there has been a naturally positive working relationship.
What's the hardest part of juggling family life and work life? I think the hardest part for us has been turning it off when we get home at night. We are constantly throwing ideas off each other and wanting to work through problems from the day. We've had to learn that our kids need our undivided attention so they don't learn to resent Clean Juice. We try to take dinner and bedtime as a protected part of our day where we are truly being intentional with our kids.
What is your favorite thing about raising a family in Charlotte?
We absolutely love everything about Charlotte. We love our church — Elevation — and we love going out on Lake Norman on the weekends. We also love what a young, entrepreneurial city Charlotte is. The people of the community really embrace fresh ideas and support people that are following their dreams, which is very different from other cities up North that we have lived in.
Best advice ever received: You can't get A's across the board all the time. Some days you are going to feel like you are killing it at work, but really dropped the ball as a mom. Sometimes you will be the most fun and loving mom on the block, but you feel like your friendships are becoming distant. Sometimes you feel like your friendships are strong, but you've had takeout three times that week and re-washed the clothes in the washer more than once. You have to learn to give yourself grace and learn when to delegate more attention to certain areas.
Proudest parenting moment: It's hard to pick just one, but I would have to say when my older two kids made the decision to be baptized. Our faith is the backbone of our lives. Seeing our kids make the choice to follow Jesus was such a significant moment for me.
Lowest parenting moment: I think any moment that you feel as if you let your kids down feels pretty low, so it is hard to pick just one. Every once in awhile, we will get somewhere and one of my kids has forgotten their shoes, so that is always pretty humbling.
Name three things you can't live without: Coffee, purple shampoo and Tabasco sauce.
Name your favorite Instagram account: @eatworkplayclt
Last book read: "Steve Jobs" by Walter Isaacson.
What inspires you? I love people who effectively use 24 hours in a day. Watching people use their talents and gifts to their maximum ability, especially to make the lives of others better, is always beyond inspiring to me.