Get to Know: Julianne McCollum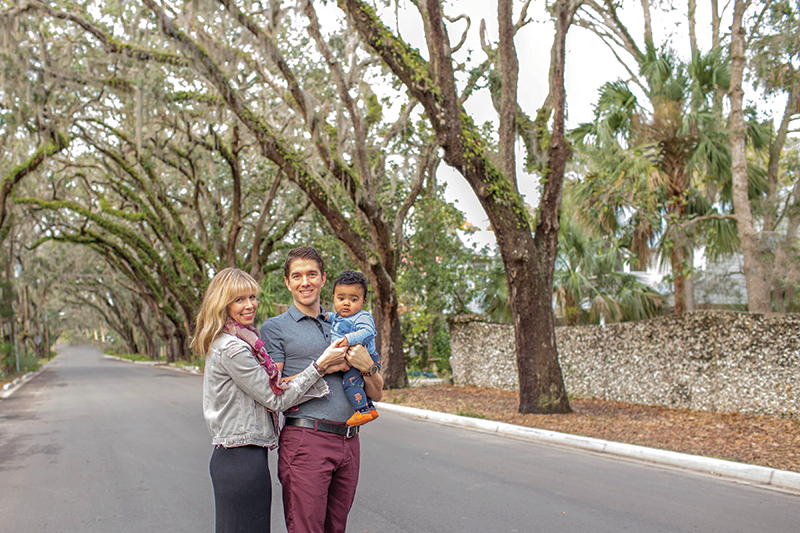 Where in Charlotte do you live? Where did you grow up? I moved here in 1997 from Purdue University, but grew up in Silicon Valley. Indiana was culture shock from San Francisco. Charlotte is a nice, happy medium. It's been exciting to see the city grow up and become more cosmopolitan, and now live in a home Tim designed for us in Plaza Midwood. Tim's a local and lived here just about his whole life.
Tell us about your job. What do you like most about it? What are the challenges? Starting a creative agency is incredibly tough but gets easier each year as we grow and figure out how to balance working in the business and working on the business. I love that each day is a little different, and that one day we're working on [public relations] for a trendy hotel, then we're branding a new community in Austin, Texas, and the next we're working on a website for an environmental nonprofit.
What's the hardest part of juggling family life and work life? There just aren't enough hours in the day/week anymore to do the same amount of work. Being an entrepreneur means that the work is never really over. You have to get the work done regardless of what time of day it is. Tim's business doesn't have traditional work hours either, so we've had to communicate and collaborate together as a parenting team more than ever before.
What is your favorite thing about raising a family in Charlotte? We love that Charlotte's growing every day and getting better. We love that our neighborhood has diversity, and lots of activities we can walk and bike to. We also love that we see adoptive families around our neighborhood a lot, and that there are activities that make getting outside and meeting people from all kinds of backgrounds so much easier.
Best advice ever received: Don't listen to others' parenting advice. Kidding (sort of). Get your kid on a schedule early and stick to it. Also, set time aside each day to connect with your spouse so you don't forget why you both love and like your partner. And don't lose your sense of humor.
Proudest parenting moment: We spent two-and-a-half years in the adoption process. We found out about our son three days before we met him. We spent a few days visiting him in the [neonatal intensive care unit]. It felt like someone else's turf, but when we put him in his car seat on that beautiful day in Texas, we were awash with tears that he was part of our family. We previously had two failed adoptions, so leaving the hospital with our son was incredible. Saying goodbye to the NICU staff and birth mother, and realizing we were a family was a tidal wave of joy. The difference between being an adoptive parent and a biological parent is that many biological parents say when they leave the hospital they were freaked out because they didn't know what to do. With the adoption process being so long and tumultuous, we were well prepared through many hours of online education, classes and reading over the years. We felt like old pros.
Lowest parenting moment: After a couple of nights without sleep, I resorted to doing laps around the hotel parking lot in the middle of a summer night in Texas with a screaming five-pound newborn baby in a stroller, hoping — no, praying — that Bob Marley would sooth our brand-new "peanut" to sleep.
What are three things you can't live without?
1. Our nanny.
2. Two sound machines — one for him and one for us.
3. Baby Brezza Formula Pro. It was a savior for us, especially in the middle of the night. One click of a button and voila.
What is your favorite Instagram account? Our son's private account, of course.
Last book read? "What to Expect the First Year" by Heidi Murkoff and "Big Magic: Create Living Beyond Fear" by Elizabeth Gilbert.
What inspires you? Looking at inspirational posters (the original memes) and listening to Kenny G. We're old-school.
---
Michele Huggins is the editor of Charlotte Parent magazine.