Get to Know: Jena Burgin-Peters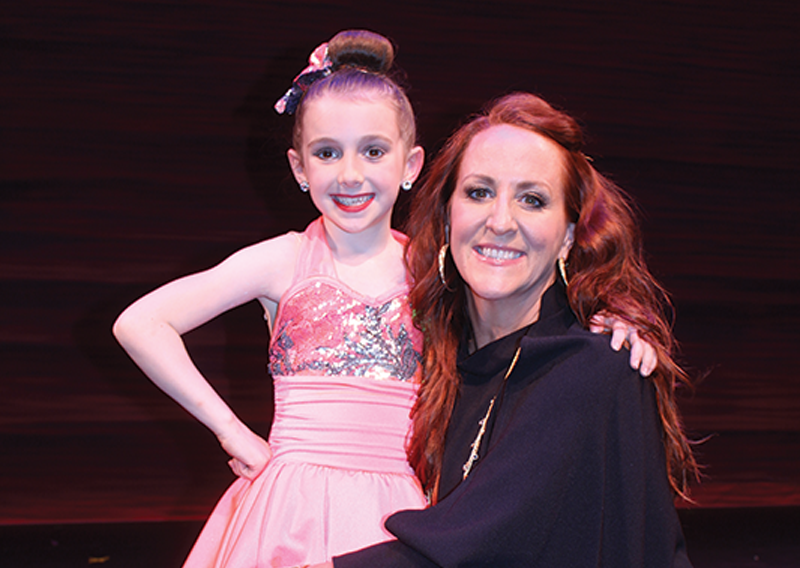 Jena Burgin-Peters is the owner of JBP Entertainment-Dance Studio. She and her husband Bob Peters, award-winning mixologist at The Punch Room at The Ritz Carlton, are parents om to 7-year-old Georgia Beth, and Slick, their 10-year-old cat.
---
Where do you live in Charlotte and where did you grow up?
We live in Plaza Midwood and I am from Lake Wylie, S.C. I spent some time here in the 1990s with my parents in between dance gigs. I moved back to Charlotte permanently in 2000.
Tell us about your job. What do you like most about it? What are the challenges?
I absolutely love my work. So much so that I don't really consider it work. Whether I am in the studio, on a commercial set or at a special event, it is always so exciting. I crave the electricity and love being a part of the entertainment community. My background as a professional dancer, singer, choreographer, director and producer serves me well now as a studio owner and mentor. I love helping students and families navigate in this overwhelming industry. If I had my way, I would have a home/work space where students attend academic classes in the morning and train in all genres all afternoon. There would be a fitness facility for parents, a healthy snack bar, a costume and scene shop and a student lounge for students to do homework with volunteer tutoring. I go to bed every night and wake up every morning visualizing the same dream. The most challenging part of my job is jumping back and forth between managing the administrative responsibilities of the company and feeding the creative side. Maintaining balance is a daily goal.
What's the hardest part of juggling family life and work life?
Georgia Beth has always gone to the studio with me. She loves dance as much as I do. Bob and I share a small office area in our house. Since he works in the evenings, we spend more time together than most. The hardest part of juggling family and work is that those lines are blurred a lot of the times. I love my job so I bring it home a lot. We set aside Sunday as Family Day. We don't make plans without each other and we try not to work.
What is your favorite thing about raising a family in Charlotte?
I love being close to my family that I was away from for so many years while I was working as a dancer, choreographer and producer all over the world. I missed so many holidays, family celebrations and important events. It makes me incredibly happy to share Georgia Beth with our family. She is the only grandchild on my side and brings so much joy.
Best advice ever received: I have had several mentors in my life and I think they all have said to me in one way or another: "Stay true to yourself and don't worry about what anyone else is doing. Do the work and it will pay off." I have to remind myself that you can't ever please everyone. That's a tough one that never gets easier.
Proudest parenting moment: On the third or fourth day of kindergarten — when they want the children to walk themselves into school and leave the blubbering parents outside — there was a little boy crying in front of the school as his mom was trying to follow the rules and send him on in by himself. Georgia Beth told us goodbye quicker than usual, and then hurried over to the little boy and held his hand. They walked into school together. Cue the lifetime music and bring me a box of Kleenex. They are still friends. In first grade, he asked her to marry him every day.
Lowest parenting moment: Georgia Beth was born with GERDS, which is like baby acid reflux. She cried every day, all day for the first nine months of her life. She didn't sleep through the night until she was about 1 year old. I felt so sad for her, and was exhausted and overwhelmed. I kept feeling like it was something I was doing or not doing. I also had just opened the studio. I was surrounded by parents and children who, along with Bob, provided me so much support. I can't imagine that time without them. We have an awesome pediatrician, and with the help of some medicine, Georgia Beth started feeling better. That time brings a lot of meaning to the whole "it takes a village" concept.
Name three things you can't live without:
Coffee, coffee, coffee … and yoga.
Name your favorite Instagram account: Mine. @jbpent
Last book read: "Being Dead Is No Excuse" by Gayden Metcalfe
What inspires you?
My community inspires me. I love being around creative and happy people, and people who are empowering, intelligent and positive. There's nothing better than sharing energy with others. Also passion and pushing through even when you think you can't inspires me. I am moved beyond measure to see students break through boundaries. There's nothing better than watching students set and reach goals. As a mentor, those successes, no matter how small, are priceless and worth every second.