Get to Know Jeff Jackson
Life in the N.C. Senate keeps him busy, but family is a top priority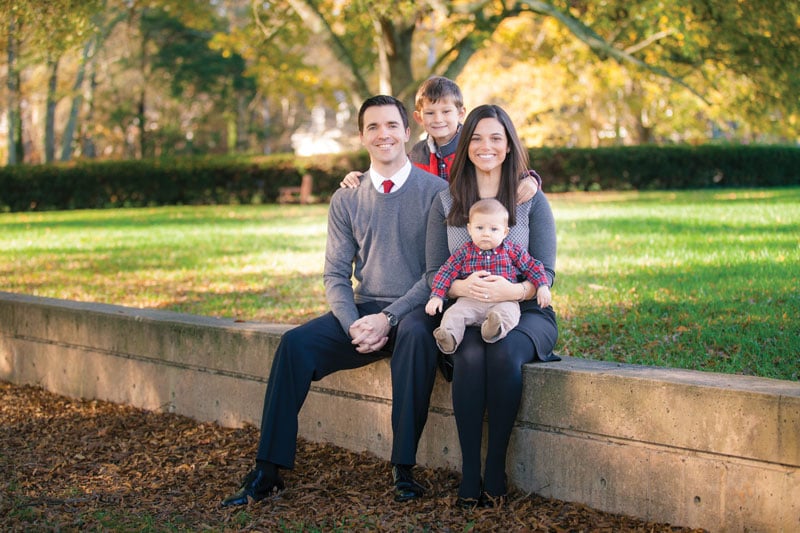 Jeff Jackson is a North Carolina senator, and is married to Marisa Jackson. Together they have two sons, Haden, age 8, and Owen, 18 months.
How long have you lived in Charlotte, and where did you grow up?
We live in Elizabeth. We have lived in Charlotte since 2010. I grew up in Chapel Hill and my wife grew up in Maryland.
Tell us about your job. What do you like most about it? What are the challenges?
I love my job. It gives me a chance to play a small role in helping to shape the future of our state. It also gives me a chance to meet a lot of people who care deeply about certain issues and to learn from them. It's amazing how much you can learn when you just listen to people who know more than you.
The biggest challenge is spending a lot of time at the general assembly in Raleigh and away from Marisa and our kids. Next year we'll be in session for about six months and during that time I'm away from home for about four days each week. I'm going to miss some good stuff while I'm gone, but the idea is to justify it by helping to pass some worthwhile laws that help everyone's families.
What's the hardest part of juggling family life and work life?
The hardest part is being present in each moment. In addition to serving in the state senate and raising a family with my wife, I'm also an attorney at a law firm and a captain in the National Guard. It can be challenging not letting one piece of my life intrude on another, but I try hardest to protect my time with family. That's the only time that you truly can never get back.
Best advice ever received?
My Dad gave me some great advice on public speaking once. He said, "Jeff, you can be inaccurate. You can be incomplete. Just don't be boring."
What is your favorite thing about raising a family in Charlotte?
My favorite thing about Charlotte is that it's the type of city where you can spend a lifetime. It's going to grow as our family grows. It's going to change, which means it will always have the ability to change for the better. Charlotte has energy and drive and momentum. It's more about the future than the past. That's exactly the way I want my kids to feel about themselves.
Proudest parenting moment?
When Owen was born, his big brother Haden, who was 6 at the time, cried because he was so happy. It showed me and Marisa that Haden had genuine compassion in his heart. Then, a few weeks ago, Haden bumped his head on the couch and was holding his head in pain. Owen, who is only 18 months old, saw his big brother in pain and started crying. He couldn't handle his big brother being hurt! So it looks like both of our boys have genuine empathy, and that's a wonderful thing. I'm not sure it was the result of any deliberate parenting on our part, but it still makes us very happy.
Lowest parenting moment?
Once Owen had a diaper that was so horrible, so truly awful — just absolute tragedy, really — that I had to call for Marisa to come in and help me change it. It was an all-hands-on-deck diaper. It was the type of diaper that makes you question the fundamental goodness of humanity. The type of diaper that, left alone, would collapse into a black hole and swallow the Earth. Owen had this big smile on his face like he knew he had broken me. It haunts me to this day. [Shudders.]
What are three things you can't live without?
1. My wireless hotspot
2. Oreo milkshakes
3. One good space movie per year ("Gravity," "Interstellar," "The Martian," etc.)
Favorite Instagram account?
@heirloomrestnc
Last book read?
"Abundance: The Future Is Better Than You Think" by Peter Diamandis and Steven Kotler
What inspires you?
As polarized as politicians and pollsters tell us we are, I actually think we're closer together than folks realize. I think there's a hidden consensus on a lot of big issues: things like early childhood education, renewable energy, health care reform, modern infrastructure and workforce development. I think the vast majority of us agree on the basic steps we need to move forward, but we're being held back by a relatively small group of political leaders who have a vested interest in maintaining the status quo. We could make enormous progress just by doing a handful of things that most of us agree on, and I think that should give us all a great reason to come together and get it done.