Get to Know: Ejona Angjeli-Liberti
She's network deployment and operations lead at Google Fiber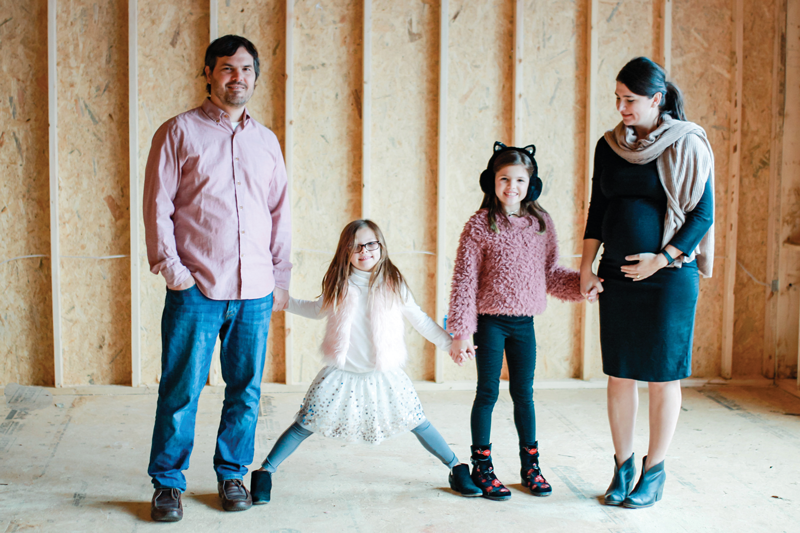 Ejona Angjeli-Liberti is the network deployment and operations lead at Google Fiber in Charlotte. She is also part of a team that is leading the charge to get girls ages 5-15 interested in STEM careers. She and her husband Chris Liberti have two children, Lucia, 8, and Maya, 6, with a son due March 5.
Where in Charlotte do you live? Where did you grow up? We live in the Montibello neighborhood near SouthPark. I moved four years ago from California to Charlotte to work with Google Fiber. I grew up in Tirana, Albania, and moved to the United States when I was 17. I lived in New York for most of my time in the United States.
Tell us about your job. What do you like most about it? What are the challenges? I manage engineering, deployment and network operations for Google Fiber for Charlotte. This role involves anticipating possible issues and making quick decisions, mitigating any problems before they materialize — essentially preventative maintenance. My favorite part of the job, and the most challenging, is working with my team. It's given me an appreciation for how important people are in a living, breathing organization with a vibrant culture. No matter how good of a plan, strategy, product or service you offer, it's the team that makes it successful.
What's the hardest part of juggling family life and work life? Time management. Just having enough hours in the day to do my job and to check on the kids, play a game with them, do homework and take care of basic needs. Google does make it a bit easier by providing a good maternity leave plan with the option to gradually return to work and flexibility once you are back.
Best advice ever received? Listen without thinking about agreeing or disagreeing. It's hard to do, but I try every day, in every interaction. It gives me an opportunity to get over there with the other person, understand what they're going through, and be present without my own biases, judgments and experiences getting in the way.
Proudest parenting moment? So many, maybe because they're so memorable and dear. My kid's first chess tournament stands out. It made me think back to me being in their shoes, and how we sometimes get to relive our own lives through our children.
What is your favorite thing about raising a family in Charlotte? The ease of it all. Everything is convenient and accessible.
Lowest parenting moment? Finding and maintaining work-life balance can be difficult. Like so many parents who work and want to commit to doing the best they can for their kids, they're likely going to fall short on the little things like forgetting a school project or missing a parent-teacher conference.
What are three things you can't live without?
My family, starting with my husband who keeps our world glued together.
Food. Good food that brings family and friends together for a shared experience.
Travel. I love to see and experience how others live.
Favorite Instagram account: I'm not on Instagram much. I have an account, but I don't really follow anyone in particular, other than my husband (@chris_liberti_paintings). I can check out the work in progress before I get home to see the pieces we love and get to live with.
Last book read? "Becoming" by Michelle Obama. Very inspiring and intellectually stimulating. It was interesting to see the perspective of someone who has balanced career and family with the possibility of doing both exceptionally well without having to compromise one at the expense of the other.
What inspires you? My kids and the way they see the world — unbiased, judgment-free, untamed from any sociocultural norms that they have yet to learn. It's very inspiring to remove the filters that we've built over time, for whatever reason, and realize there are so many ways to be present and live life through all of its colors.