Get to Know Dina Carey
The owner of Milkful creates snacks to help new moms with unexpected challenges of breast-feeding.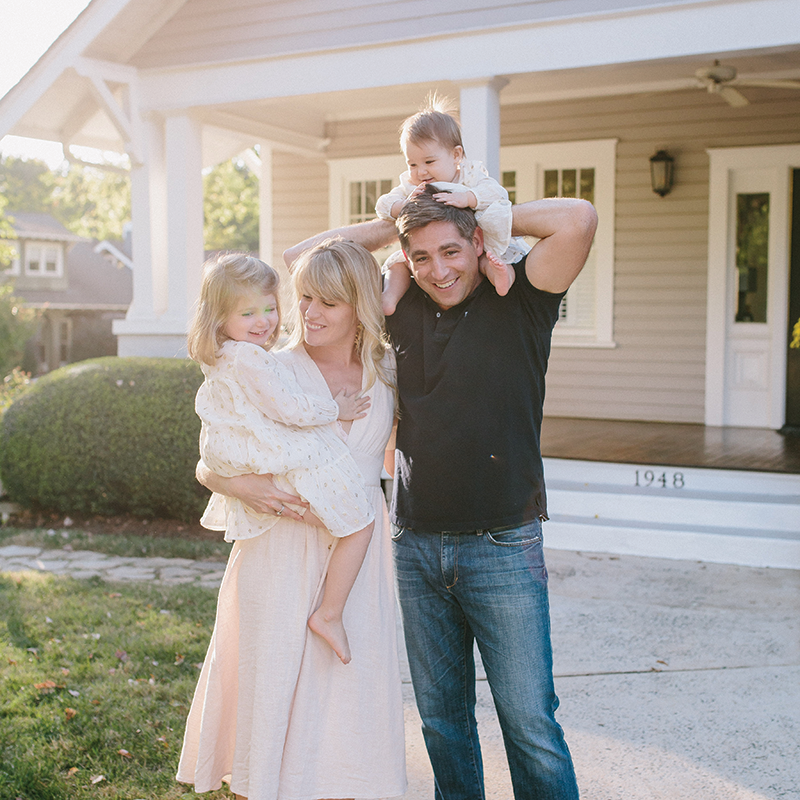 Dina Carey is a culinary graduate and owner of Milkful, a company that produces snack bars that can help boost breast-milk production for new moms. She and her husband, Tyler Carey, have two daughters: Lawson Rose, 3, and Isla Adele, 1.
---
Where do you live in Charlotte and where did you grow up? I grew up in Alpharetta, Georgia. My husband and I have been Charlotte residents for 10 years. We live in Dilworth and love our community and neighbors.
Tell us about your job. What's it like? What do you like most about it? What are the challenges? I started Milkful after experiencing unexpected challenges breast-feeding my first daughter. It was an emotional experience to not be able to provide for her the way I had hoped. In the short few years since starting Milkful, it is very apparent that there are many women going through similar struggles with breast-feeding.
As for the challenges, it was pretty chaotic when we experienced such quick growth in the beginning, especially since it was all being managed out of my home. I am in an entirely different place now. I've been able to outsource fulfillment, get an office space outside of my home, and grow the team to include two employees that help to manage the workload and the brand's growth.
What's the hardest part of juggling family life and work life? Something always has to take the backseat. It's impossible to do all of my roles — wife, mommy, business owner, daughter, sister, friend — and everything that I want to do in my life, and do it perfect. I constantly remind myself that it's the chaos in life that keeps things fun and exciting. I do my very best to roll with the punches and try to give myself some grace from time to time.
What is your favorite thing about raising a family in Charlotte? We love the parks and playgrounds that are within walking distance of our house. Charlotte is such a kid-friendly city. We go everywhere as a family, and love that so many other families do the same.
Best advice ever received: "Time is our most precious asset. We should invest it wisely." I try to remind myself this all the time. It's so easy to get caught up in the hustle and bustle, and overcommit with activities.
In business: "Perfection is paralyzing." A mentor told me this in the very early days of starting Milkful, and it has become a part of our company culture.
Proudest parenting moment: I was especially proud the first time I watched Lawson interact at school with other children and adults without her knowing I was watching. There was something really special about seeing her growing in her independence and the way she handled herself without mommy or daddy nearby.
Lowest parenting moment: I struggled with a recent sleep transition with Lawson. For weeks, she was getting up many different times in the middle of the night. I had so much guilt about how I was handling these situations. I was tired, irritable and impatient. I did a lot of research about the perfect way to resolve the situation, and realize that there isn't one. As parents, we are going to be thrown wild cards. It's our job to give our kids strong love. It's our job to teach them how to eventually live on their own in the world, and this starts with simple things like learning how to stay in bed at night. It's not easy, but this situation really helped me to think about how I communicate with my kids when the going gets tough.
Name three things you can't live without: Cheese, yoga and Q-tips.
Favorite Instagram account: @sarablakely
Last book read: "Families Where Grace Is in Place," by Jeff VanVonderon.
What inspires you? My girls and my husband, Tyler, definitely inspire me to be a better person, wife and mother. Tyler has been the strongest supporter of Milkful since day one. I wouldn't have been able to pursue this path and build this business without him.
Lawson is at the age where she's like a little sponge. I see her pick up on things from my behavior and it's a huge motivator to be the most loving, patient, attentive, encouraging mom I can be.
Lastly the NPR podcast series "How I Built This With Guy Raz" is a must for anyone needing a business morale boost. So inspiring to learn the start-up stories behind mega brands.