Get to Know: Clary Hilliard of Hilliard Studio Method
Get to know the co-owner and director of marketing for workout studios Hilliard Studio Method and HSM | Core.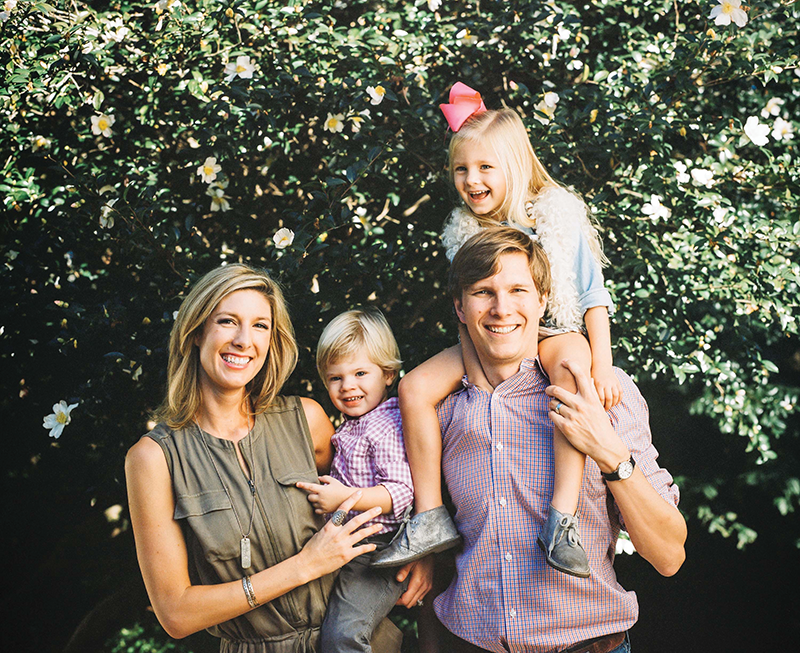 Clary Hilliard is the co-owner and director of marketing for Hilliard Studio Method and HSM | Core, two workout studios that were created by her and her mom, Liz Hilliard. She and her husband Robert Gray are also parents to daughter Aubrey, 5, and son Cameron, 3.
---
How long have you lived in Charlotte and where did you grow up?
I was born and raised in Charlotte. I grew up off of Carmel Road near Quail Hollow, back when that was pretty much as far south as anyone lived in Charlotte. I spent four years in Chapel Hill attending the University of North Carolina, and two years in Cambridge, Massachusetts where my husband was in graduate school at Harvard. Other than that I've always lived in our great Queen City. We now live in Eastover, which makes getting to work pretty nice since Hilliard Studio Method is less than half a mile from our home.
---
Tell us about your job. What do you like most about it? What are the challenges?
Each morning starts early, fast and furiously getting the kiddos fed and out the door, and me off to one of my studios. At Hilliard Studio Method and HSM | Core, we push our clients to reach their edge and strengthen their bodies and minds in a supportive atmosphere.
Teaching and taking daily HSM classes, running two businesses and taking care of two children under age 5 most certainly has its challenges. However, I am lucky in that being in business with my mom, I can work my schedule around important happenings with the children. Plus the kids love coming to the studios to play (and work).
The best part about my job is that is requires me to be healthy, in shape and motivate others to do the same. Serving as an inspiration for our clients, no matter their stage of life, brings me so much joy; I would do it for free! Luckily, I have found a way to make it into my career. The relationships I make with clients and our wonderful trainers and staff every day make it over-the-top rewarding.
---
What's the hardest part of juggling family life and work life?
The feeling that there's always something getting neglected. Having a busy week at work? The kids need more attention. Kids doing great? I'm probably missing something at work. And my wonderful, sweet husband is usually getting neglected, though we try to make up for it with as many date nights as possible.
I have to remind myself that there will always be something else to do no matter how hard I work. My children and work team pick up on my energy, so I do my best to remain calm, take a breath and find something to enjoy and focus on in the moment I am in.
---
Best advice ever received?
Make sure you take care of yourself so that you can take care of your family. If you are not feeling healthy, strong and happy then you are not going to be able to provide that kind of atmosphere for your husband and children. For me and so many other moms that come into our studio, a one-hour class is our time to get away, regroup and do something for ourselves that will stay with us long after we leave the studio.
---
What is your favorite thing about raising a family in Charlotte?
The ability to enjoy both the perks of urban living like great parks, museums and restaurants while still having that small-town feel of neighbors who care for each other and share their back porches and big front yards.
---
Proudest parenting moment?
I'm proud of my kiddos every day. At their ages, they are hitting new milestones all the time and each one amazes me more than the last.
---
Lowest parenting moment?
I think that all parents get in a funk at some point in their parenting. The hardest moments for me were when my daughter was going through her terrible 2s and would not stay in her room at night no matter what I did, all while having a newborn, who actually slept better than she did. Glad those days are past us.
---
What are three things you can't live without?
My HSM workouts that keep me feeling young, healthy and relieves stress!
Amazon Prime. Anything and everything you need, right to your door!
Wine. No explanation needed!
---
Favorite Instagram Account?
@hilliardstudiomethod + @hsmcore of course! And @wellandgoodnyc.
---
Last book read?
Cooked by Michael Pollan
---
What inspires you?
When I am working out, gardening or having quiet time is when I get my best ideas. I'm inspired to be a better mother, wife and business owner when I'm spending time with the people I love. I'm moved to tears when I see someone in my class working to her edge and achieving something greater physically and mentally than she thought possible.