Get to Know: Catherine Wellington
She owns online retail clothing store Blue Sage Baby + Kids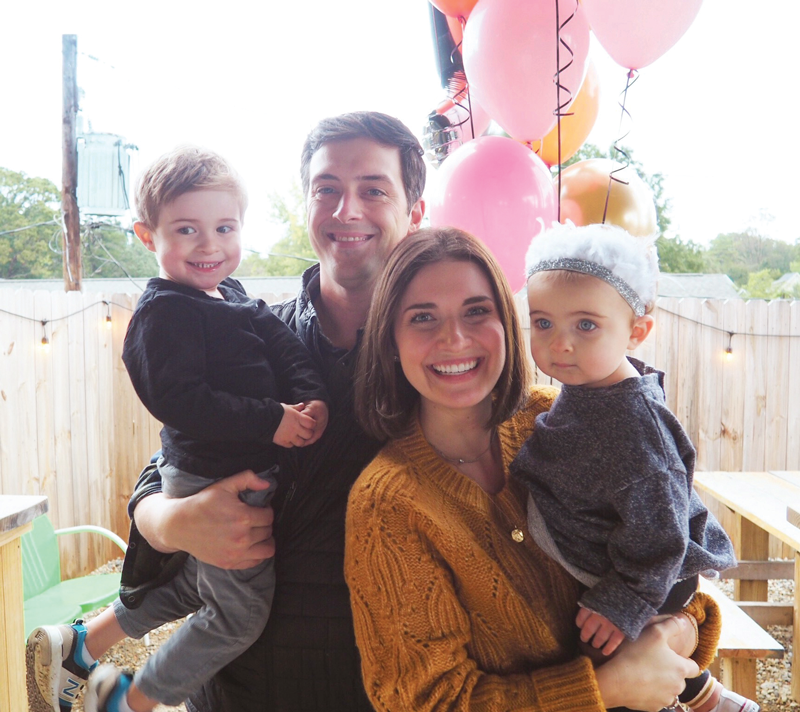 Catherine Wellington is the owner of Blue Sage Baby + Kids, an online retail clothing store for children. She and her husband Greg Wellington are parents to Gregory, who is 2-1/2 years old and Carlin, who is 1 year old.
---
Where in Charlotte do you live? Where did you grow up? We have lived in Cotswold for the past three years. We love our neighborhood. I've lived in Charlotte for a little over 10 years. I grew up in Raleigh. It's nice being a short drive from home because my family still lives there.
Tell us about your job. What do you like most about it? What are the challenges? I have always loved being in retail and buying. I love the styling aspect of it the most. It's fun putting together outfits for babies and kids because their clothes can be so playful. My biggest challenge is finding a balance between being a mom and a business owner. I know so many women also face this challenge, and I don't think there is such a thing as balance. Some days my kids require more of my attention and other days, my business does.
What's the hardest part of juggling family life and work life? The hardest part for me has been learning how to ask for help when I need it. My kids obviously come first, so some days I have to rely more on others to help me keep Blue Sage Baby + Kids running.
What is your favorite thing about raising a family in Charlotte? I love that Charlotte is so diverse and has so many resources available to us as parents. I also love our accessibility to amazing museums, libraries and entertainment for our kids.
Best advice ever received: It's a marathon not a race. Don't focus on the obstacles, but instead, the big picture.
Proudest parenting moment? As cheesy as it sounds, I really enjoy watching my kids grow and learn new things. It is crazy to me that my oldest is stringing together sentences and not just saying random words anymore. My youngest just learned to walk — I swear she was just born last month.
Lowest parenting moment: Saying a few bad words when I'm driving and then have my toddler repeat them.
What are three things you can't live without? Family, friends and coffee.
Favorite Instagram account: @amberinteriors
Last book read: "I've Been Thinking" by Maria Shriver.
What inspires you? I am really inspired by all the moms in our community that are creating, following their passions, working hard toward their dreams and helping others in those aspects. I am fortunate to be surrounded by a great group of friends that continue to inspire me through those characteristics everyday.