Get Real with Terrance Bates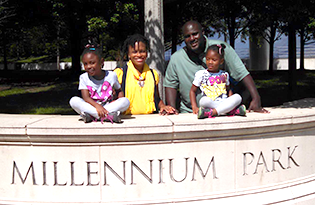 Quick Stats: 40, news anchor on WCCB News Rising

Family tree: lives with wife Tamara and daughters Taryn, 5, and Terra, 4
Favorite indulgence: Harris Teeter chocolate chip cookies .
Favorite outing: summer concerts at Stonecrest with my family
Favorite local eats: Pio Pio is the absolute best!
iPod: I don't own an iPod. I listen to the radio in my car and finally put some CDs in the player, which includes Earth Wind and Fire, Notorious B.I.G., Pharrell and "Let it Go" from "Frozen"
Latest read: "The Blood Sugar Solution: 10-Day Detox Diet" by Mark Hyman
DVR: "Lone Survivor" with Mark Wahlberg
In your bag: I don't carry a bag, but I always have my cell phone, keys and wallet in my pockets
Can't live without: my cell phone. I'm always calling friends, checking email, apps or Facebook
Stress buster: playing soccer in a competitive over-40 league, in addition to a couple pick-up games each week.