Get Real With Christine Nelson
Get to know local mom and anchor/reporter for WBTV.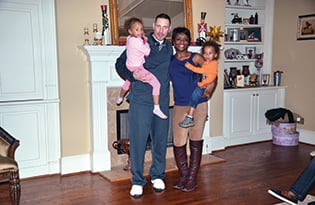 Quick stats: age 37, anchor/reporter for WBTV
Family tree: lives with husband William Sperow II, and daughter Camryn, 4, and son William III, 2
Favorite indulgence: Haagen Dazs ice cream bar, specifically vanilla milk chocolate almond, Yum!
Favorite outing: with family — Chuck E. Cheese
Favorite local eats: Cowfish
iPod: Bruno Mars "Treasure"
Latest read: "Click Clack Moo, Cows That Type." I have two kids — I end up reading what they read.
DVR: last season of "Dancing with the Stars." Still haven't been able to see the full finale — remember, two kids …
In your bag: spa services brochure (I'm due for a massage), lotion, wallet, earring that fell out of my ear while driving, a few Christmas receipts
Can't live without: My husband
Stress buster: manicure/pedicure at ipolished and massage at Ballantyne Hotel spa.